Shaista Gohir OBE
CO-CHAIR
Shaista is a leading Muslim women's rights activist in the UK. She uses Muslim women's voices and their diverse experiences collected through membership, research and helpline data to promote social justice. She gained this expertise through her work at the Muslim Women's Network UK (MWNUK), which she leads as Co-Chair. She has spent the last 16 years growing MWNUK from a handful of volunteers to a nationally renowned charity. She joined MWNUK in 2005 when it was an informal group and became its first employee in 2007. She has led the organisation both as Executive Director (2007-2011) and Chair from 2012 until 2019 when she became Co-Chair so she could dedicate more time to other voluntary activities.
In 2021, she was appointed as an Associate NED on University Hospital North Midlands NHS Trust where she is the Equalities Lead. In 2020 she was appointed at the Women's Voices Lead at the Royal College of Obstretricians and Gynaecologists where she will ensure that women's voices are heard at all levels and that their experiences are used to strengthen policy and practice to improve women's health.
She is currently leading in research on Muslim women's maternity experiences. Her previous research has included: Muslim Women's Experience of the Criminal Justice System (2019); Female Genital Mutilation - Affected Communities in Birmingham (2016); Muslim Marriage and Divorce in Britain (2016); Unheard Voice (Sexual Exploitation of Young Asian women and girls (2013). As a result of her report on sexual exploitation she was including on the Office of Children's Commissioner National Inquiry Panel investigating Child Sexual Abuse in the Family Environment. Due to her expertise she has been a member of numerous government, public body, third sector and international advisory groups to share insights into the experiences of BAME women and girls.
In 2015, Shaista set up the Muslim Women's Network Helpline and Counselling Service, a national faith and culturally sensitive support service, which now receives calls on 45 different issues and helps over 1200 individuals every year. Most recently she set up the Muslim Women's Network Hub, an online platform to connect women and is currently overseeing the development of a domestic abuse app. As an influential women's rights campaigner, Shaista also regularly comments in the media and in recognition of her work, she was awarded the OBE in 2016 and the MBE in 2008.
Help us to improve social justice and equality for women and girls
Our Supporters
Jess Phillips MP
Labour Party
MWNUK is courageous because of the uncompromising and fearless positions it sometimes takes when calling out injustice and inequality
Sadiq khan
London Mayor
I am proud to support and champion this fantastic organisation, which is informing policy and transforming lives.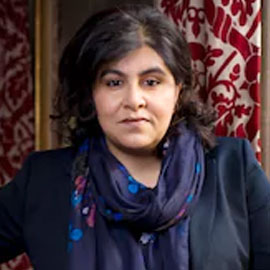 Baroness Sayeeda Warsi
Conservative Party
MWNUK's authenticity comes from knowledge of lived experiences of Muslim women and girls acquired through their helpline, research and members.
Naz Shah MP
Labour Party
They work tirelessly with passion and commitment to make a difference and improve outcomes for some of the most vulnerable women and girls in society.
Dr Shola Mos-Shogbamimiu
Lawyer, Political & Women's Rights Activist
There is no greater time than now for the voices, representation and power of Muslim women to be visible in the feminist movement and all walks of life. MWNUK is a vital force in delivering this much needed balance and representation.