Muslim Women's Advisory Group
The Muslim Women's Advisory Group was launched on the 31st January 2023 and will help to inform the work of Muslim Women's Network UK and the APPG on Muslim Women. The MW Advisory Group members will act in their independent capacity and will provide additional insights into how attitudes, policies, practices and laws may be adversely impacting the lives of Muslim women and girls and how their needs can be met so their social, political, economic and health outcomes can be improved.
Farah Farzana
Falkirk
Farah Farzana's passion lies within community activism, which led to her being a co-founder and current Board Member for Al Masaar SCIO, which means 'Path to Progression'. Graduating with a Merit from the University of Glasgow in Education, Public Policy and Equity, Farah works in the field of anti-racism in public policy. During her two-year role as Chair of the SNP BAME Network, she influenced the SNP manifestos to include a commitment to anti-racist education and the Scottish Government to adopt the APPG definition of Islamophobia. She was also the first Muslim female to be a candidate in her local authority elections in 2017. As a single mother of two, Farah is also survivor of childhood trauma and domestic abuse, which her my motivation to disrupt the status quo.
Firzana Ahmed QPM
Bradford
Firzana Ahmed is a married mum of three children. She served as a Police Officer in West Yorkshire for 30 years and retired in January 2020. Her career highlight was receiving the Queen's Police Medal from HRH Prince William at Buckingham Palace in 2019 for her distinguished service. She is also a trustee for two charities in Bradford. She is also a member of a live studio audience for Steph's Packed Lunch which is filmed in Leeds live and is shown on Channel 4 1230 - 1410, Monday-Friday. Firzana is involved with consumer & topical items and has been part of the show for the last two years. In her remaining spare time she spends time keeping fit, walking, going to the gym and her favourite sports is badminton which she plays twice a week.
Shukri Mohammed
Liverpool
Shukri Mohammed was born in Somaliland, raised in Liverpool and spent 24 years in Birmingham. She is the proud mother of six children ranging from primary school to university students. Shukri is the Co-Founder of the Dery Foundation which she set up to support vulnerable members of the Somali community in Birmingham and Liverpool. She worked with police forces and the NHS to deliver workshops on restorative justice, mental health and knife crime. Shukri is currently working as a hate crime support worker with Anthony Walker Foundation and recently obtained her HND in hospitality management from the London Business School and Finance. She also continues to campaign for the recognition of Somaliland.
Shavanah Taj
Cardiff
Shavanah Taj is Wales TUC's first BME General Secretary. She joined Wales TUC in February 2019 from the Public and Commercial Services Union (PCS), where she had been Welsh Secretary since 2013. Prior to graduating from the TUC Organising Academy in 2002, she worked in retail, call centres and the third sector. She is a board member for a number of charities, including the Bevan Foundation, the People's Health Trust and Women Connect First where she is Chair. Shavanah is an advocate for workers rights, often commenting in the media, giving advice and evidence to Welsh Ministers and Committees and speaking at round table debates and protest marches. Her expertise includes worker exploitation, low pay, anti-racism, human rights, women's rights and climate justice.
Niparun Nessa
Oldham
Niparun Nessa (Nipa) is a Secondary School Teacher, Maths specialist and creative and aerial arts facilitator. She delivers training and consultancy on equalities, diversity, inclusion and antiracism. She is also an organising forum representative for the National Education Union's Black Educators Network and involved in supporting various community and interfaith groups. Nipa is passionate about international solidarity and human rights as well as supporting people with both their physical, emotional and mental health and wellbeing.
Zahra ElRapti
Manchester
Zahra ElRapti works in NHS management and is a committed healthcare leader involved in inclusion, equality and diversity projects within the workplace. Zahra describes herself as an 'outgoing introvert' and uses her experiences as a Muslim woman from a white British background to provide community leadership with a special focus on convert care and integration with the wider Muslim community through engagement with local mosques. She is also is a co-founder and co-host on the Converts In Conversation podcast, with episodes addressing issues and challenges faced by converts and Muslim women in Britain. When not working, Zahra is can be found doing anything from painting and sewing to fencing and combat tag archery.
Shalina Litt
West Midlands
Shalina Litt is a Breath Work Mentor supporting adults and children with anxiety relief and is also a LDD College Lecturer for students who have behavioural or SEND. She has been radio presenter at local community station and has been featured on mainstream media such as the BBC and Channel 4 about her hijab journey and on women's right to wear the face veil. She regularly raises awareness of issues affecting Muslim women through her podcasts, blogs and Instagram lives. She is a survivor of domestic abuse and is especially passionate about talking about mental health. She is the Director of Special Madrasahs providing inclusive education resources and she is in her final year of completing her Masters Psychology of Mental Health and Wellbeing.
Siyyara Bakhsh
London
Siyyara Ahmed has worked as a Social Worker/Senior Social Worker for more than 30 years having worked in the East Midlands, London Boroughs and Berkshire. This also includes hospital social work. She expertise in child protection and safeguarding and has worked with a wide range of teams such as the mental health team, the disabled children's team and the fostering team.
Dr Anjam Sultana
Birmingham
Anjam has worked in education for over 20 years, firstly as a Teacher of Science and then as an Educational and Child Psychologist since 2014. Currently, Anjam works as a Specialist Senior Educational Psychologist and as an Academic and Professional Tutor on the Applied Educational and Child Psychology doctoral programme at the University of Birmingham. Anjam's doctoral research explored how educational settings influence the experiences, identity and academic attainment of Pakistani students. She has a long-held interest in anti-oppressive practice in education and working to improve educational outcomes for marginalised / minoritised groups. In her spare time, she enjoys playing netball, listening to podcasts and going to the cinema.
Atiyyah Younis
South England
Atiyyah Younis qualified as a solicitor in 2011. She has worked for a number of organisations leading high profile cases and has built up a strong background in regulatory investigations. She sits as a member for the Bedfordshire Police Force's Independent Advisory Group providing useful insight and advise on challenging issues being faced by the Force and the community. She is also an independent panel member for the City of London Corporation often chairing complaint investigations for the Corporation. Atiyyah is keen use her experience to continue to give back to the wider community, and is especially keen to help women navigate the challenges they face in society.
Aisha Adam
Essex
Aisha Adam currently works as an Independent Domestic Violence Advisor (IDVA) where she provides support to victims of domestic abuse with a particular focus on safety and protection to those at highest risk of domestic homicide. Aisha has also worked in probation services where her work involved supporting service users to successfully complete sentenced court orders, resettlement in the community after completing custodial sentences. Aisha also has experience in assessing risk and implementing tools that protect victims of crime from their perpetrators. Through her various roles Aisha has experience of working with a range of agencies such as the police, local authorities, courts, health services, substance misuse services, youth offending teams and the voluntary sector.
Help us to improve social justice and equality for women and girls
Our Supporters
Jess Phillips MP
Labour Party
MWNUK is courageous because of the uncompromising and fearless positions it sometimes takes when calling out injustice and inequality
Sadiq khan
London Mayor
I am proud to support and champion this fantastic organisation, which is informing policy and transforming lives.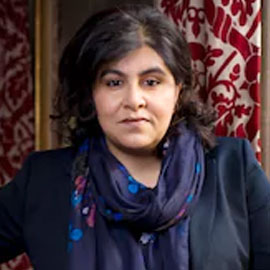 Baroness Sayeeda Warsi
Conservative Party
MWNUK's authenticity comes from knowledge of lived experiences of Muslim women and girls acquired through their helpline, research and members.
Naz Shah MP
Labour Party
They work tirelessly with passion and commitment to make a difference and improve outcomes for some of the most vulnerable women and girls in society.
Dr Shola Mos-Shogbamimiu
Lawyer, Political & Women's Rights Activist
There is no greater time than now for the voices, representation and power of Muslim women to be visible in the feminist movement and all walks of life. MWNUK is a vital force in delivering this much needed balance and representation.