Supporters by Donation
The Rank Foundation
The Rank Foundation
HENRY SMITH

In 2020, the HENRY SMITH CHARITY has awarded us a 3 year grant of £88.900 towards three years salary and on costs of a Case Worker, plus running costs of a project supporting Muslim women and girls in the West Midlands. Our organisation was amongst the 20% of applicants applying, to get an award. Previously Henry Smith Charity awarded us a 3 year grant of £88,250 (in 2014) to contribute towards the setting up and operation of a faith and culturally sensitive national helpline primarily aimed at Muslim women and girls. This helpline has since grown and expanded with the support of other funders.


GARDEN COURT CHAMBERS
We are grateful for GARDEN COURT CHAMBERS supporting us again. In 2020, we received £2000 for our criminal justice work. Previously in 2014, they donated £1000 donation, which was used towards producing the report on Muslim Marriage and Divorce in Britain (2016).

COMIC RELIEF
A grant has been awarded to us of £120,000.00 over 36 months. This grant is co-funded from the Tampon Tax Fund through a partnership between Comic Relief and the Department for Digital, Culture, Media and Sport (DCMS). This grant is starting on 1st February 2019. We are thankful for their support.

AWARDS FOR ALL

In 2019, we successfully obtained £10,000 for a part time Case Worker to provide holistic support to our Birmingham based serve users referred from our MWN (national) helpline. Previously we were given a grant in 2015 of £10000 from to contribute towards the setting and operation up of our faith and culturally sensitive national helpline primarily aimed at helping Muslim women and girls. This has since expanded and grown with the support of other funders.


Wandsworth CCG
Thank you WANDSWORTH CCG for providing £10000 in 2018 for delivering mental health training workshops to BAME communities in Wandsworth and to measure the impact of these to inform future thinking.

MUSLIM HANDS
We are really pleased to announce that for the first time since our existence that a main Muslim charity will be providing funding towards our work. They will be contributing £10, 000 for the national Muslim Women's Network Helpline Project. They will also be ring fencing an additional £3, 000 for a hardship fund for clients that are destitute and experiencing financial hardship. Clients will be referred directly to Muslim Hands so women can be provided with emergency support. This one year grant starts on 1st April 2018.

BIG LOTTERY (REACHING COMMUNITIES)
After being awarded an Awards for All grant in 2015 to test the idea of a national helpline aimed primarily and Muslim women and girls, we used the evaluation of the helpline to secure a grant through Reaching Communities to support the national helpline. The grant which started in 1st October 2017 is a five year grant for £498, 286.

BARROW CADBURY TRUST
Through our helpline work we found that Muslim women faced negative experiences when having to deal with the criminal justice system either victims or offenders. We therefore made an application to the Barrow Cadbury Trust to find out about these experiences and also to provide additional support to these helpline clients. The project will also involve reviewing previous helpline cases and to produce a report with findings and recommendations that can be disseminated to professionals working in the criminal justice system and those deciding policies and practices. We have been awarded a two year grant for £45, 500. The grant starts 1st March 2018.

THE JOSEPH ROWNTREE CHARITABLE TRUST
We would like thank THE JOSEPH ROWNTREE CHARITABLE TRUST for supporting us since 2007 and for their continuous belief and support in our work. We are grateful for the new 3 year grant that began in April 2018 for £120,000 for core costs.
LLOYDS BANK FOUNDATION
For the first time we are please to announce that Lloyds Bank Foundation have awarded us a one year grant of £15, 000 for a Case Worker that will take on cases from our national helpline, where additional support is needed for clients in the West Midlands. The work will be evaluated to identify further needs. This grants starts 1 April 2018.

ESMEE FAIRBAIRN
The foundation has awarded us a two year grant of £60,000 to employ two outreach workers one based in the Birmingham Office and the other based in Lancashire. They will be disseminating our activist packs containing our information booklets and campaigns videos on different issues to women and third sector groups who can cascade the information further via coffee mornings, meetings and seminars etc.
CHARLES HAYWARD FOUNDATION
The foundation has kindly awarded us £4000 (for 2017) to go towards our culturally sensitive counselling service which compliments our national helpline service. The grant will help vulnerable women, who have suffered abuse, to receive counselling. The counselling will help women to deal with trauma and give them the confidence to rebuild their lives.

WEST MIDLANDS ASSOCIATION FOR WOMEN IN POLICING
We are extremely grateful to WMAWP for choosing Muslim Women's Network UK for their chosen charity for 2017. They raised £514 for us at their annual dinner in February 2017. This will go towards helping women and girls! Thank you for your support!

CABINET OFFICE
As part of the Chancellor's March 2016 budget, £12m generated from the tampon tax was put towards a range of women's charities. MWNUK made an application for these funds in February 2016. We were fortunate to be one of the organisations selected for a grant. We have been awarded £113 973 over two years 2016-18 to expand the hours of our national MWN Helpline Service so we also operate in the afternoons Mon-Fri (in addition to the mornings).
THE ARCUS FOUNDATION
Arcus Foundation has awarded us a one year grant (Jan to Dec 2016) of $66000 to work in partnership with Inclusive Mosque Initiative (IMI). The grant will help strengthen IMI's organisational capacity and help them rent a UK mosque space for one year that operates on inclusive Islamic values e.g. champions gender justice, recognises the diversity of Muslims by ensuring LGBT inclusion, the importance of disabled access, multi-denominational and welcoming non-traditional families. We are pleased that the Arcus Foundation has recognised this important area of
work. A further grant of $150 000 was awarded to continue the work at IMI from 1st April 2017 to 31st March 2019.

WEST MIDLANDS POLICE CRIME COMMISSIONER
We are grateful to the West Midlands Police Crime Commissioner which has awarded us £7500 through the Victims Fund for a pilot faith and culturally sensitive counselling service aimed at women who have suffered from any type of crime whether reported or not such abuse, violence etc. The pilot will run from Dec 2015 to April 2016. We were awarded further funding of £4000 for Oct 2017 to May 2018.

TUDOR TRUST
We have been successful at obtaining a 3 year grant of £100 000 to support our national helpline from the Tudor Trust. We really appreciate that Tudor Trust has recognised the importance of the helpline. Their funding will help to recruit additional staff and increase opening hours and to do some outreach work so we can also function as mobile helpline at least locally in Birmingham. The grant is for the following period: November 2015 to October 2018.

BUILDING A STRONGER BRITAIN
We are grateful for the in kind support provided to us through the government's 'Building A Stronger Britain Together' programme. Through this partnership we receive capacity building support across a number of different areas including social media training, communications strategy and campaign development.
FOREIGN OFFICE
The FCO awarded us £15 000 through their Domestic Programme Fund for continuing to raise awareness of the illegality of forced marriage, its impact and the support available. This will involve working with faith leaders, producing an Urdu resources and resources for young people to challenge forced marriage. The award is for Sept 2015 to March 2016. Thank you FCO!
FORWARD & DEPT OF EDUCATION
FORWARD chose us as their partner to deliver FGM awareness raising workshops in Birmingham schools aimed at teachers and pupils. The funding has come from the Department of Education. We have been awarded £18745 for 2015-2016.


DCLG
In 2015, the DEPARTMENT OF LOCAL GOVERNMENT & COMMUNITIES have given us £14910 to produce resources and deliver 5 forced marriage community events to raise awareness of this issue. So thank you for supporting our work! Previous support from DCLG has included funding in 2008 (Gender 5 day course) and 2009 / 10 (core costs for capacity building).

WEST MIDLANDS POLICE
After donating £1000 towards the produced of a video on CSE (Jasmin's Story) in 2014, WEST MIDLANDS POLICE had faith in us to produced further resources. They donated £13000 in 2015 to produce awareness raising videos on male attitudes and CSE and on FGM. The donation will also fund an awareness raising pamphlet and event. So a big thank you to WMP!
BARROW CADBURY TRUST
We are grateful that the BARROW CADBURY TRUST has recognised the importance of our report Unheard Voices: Sexual Exploitation of Asian Girls and Young Women. They have awarded £13800 to hold awareness raising events and produce resources in 2014-2015.

ROSA
We appreciate the grant from the charitable fund, ROSA. They awarded us £5000 for 2014-2015 to carry out research in Birmingham on female genital mutilation to better understand the local context so it can influence local policy. Thank you ROSA for believing that we can also contribute to this issue.






ANONYMOUS MUSLIM FEMALE DONOR
One Muslim female supporter of Muslim Women's Network UK, has been very generous and has very kindly donated £2000 in Ramadan 2013 for a specific project dedicated to our former Chair Cassandra Balchin who lost her battle to cancer and passed away in July 2012. Cassandra was particularly an expert in family laws, marriage, divorce, and parallel legal systems /plural legal orders. Before Cassandra passed away, she wanted to produce an advice booklet to help Muslim women to navigate through the often complex process of obtaining a Muslim divorce and for them to know their rights as often women were unaware and suffered needlessly. However, she was unable to complete this project.

Our donor will wants us to use the donation to realise Cassandra's dream and produce an 'Information and Advice on Divorce for Muslim Women in Britain' booklet. This publication will be produced in late 2013. So a BIG THANK YOU!

MOHAMMED NADEEM
We would like thank Mohammed Nadeem of Nadeem Properties and Nadeem Plaza in Luton for supporting us with a donation of £500 during Ramadan 2013. It is fantastic that a Muslim businessman has recognised the importance of women's empowerment and is supporting women's rights. We are currently trying to fund raise for a national helpline aimed at Muslim women and girls - so we plan to put this donation towards that.

NOON FOUNDATION
A big thank you to Sir Gulam Noon and his Noon Foundation for his donations! He donated £250 in Ramadan 2013. This contribution will go towards funds we are currently raising for a national helpline.

He also sent us £500 in November 2011. We used this donation towards printing and designing our 'Information and Advice on Muslim Marriages in Britain' booklet, which was launched at our Annual General Meeting at the House of Lords in January 2012. This booklet has been very popular and has been downloaded hundreds of times and all the printed copies have been taken and we will now be looking to reprint these. We appreciate the support from Noon Foundation - for this project. They have helped more Muslim women to become aware of their legal rights.

GHAYASUDDIN SIDDIQUI
Ghayasuddin is a champion of women's rights and works tirelessly on raising awareness of issues that impact on the lives of women and girls. He was key in developing the Muslim marriage contract. Thank you Ghayasuddin for helping to empower Muslim women and thank you for your donation of £350 towards reprinting our 'Information and Advice on Muslim Marriages in Britain' booklet.

BIRMINGHAM CITY COUNCIL
BIRMINGHAM CITY COUNCIL awarded a grant of £21100 (2009-2010) to produce resources to promote Muslim female role models to raise aspirations. The resources includes 3 exhibitions, 2 roller banners, posters and booklets. We appreciate the support and the resources continue to be used.




Help us to improve social justice and equality for women and girls
Our Supporters
Jess Phillips MP
Labour Party
MWNUK is courageous because of the uncompromising and fearless positions it sometimes takes when calling out injustice and inequality
Sadiq khan
London Mayor
I am proud to support and champion this fantastic organisation, which is informing policy and transforming lives.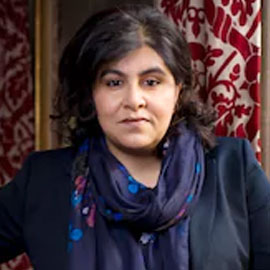 Baroness Sayeeda Warsi
Conservative Party
MWNUK's authenticity comes from knowledge of lived experiences of Muslim women and girls acquired through their helpline, research and members.
Naz Shah MP
Labour Party
They work tirelessly with passion and commitment to make a difference and improve outcomes for some of the most vulnerable women and girls in society.
Dr Shola Mos-Shogbamimiu
Lawyer, Political & Women's Rights Activist
There is no greater time than now for the voices, representation and power of Muslim women to be visible in the feminist movement and all walks of life. MWNUK is a vital force in delivering this much needed balance and representation.