Cookie Policy and Notice
About Cookies
To enhance your experience on our website we use 'Cookies', which are small text files that we place on your computer's hard drive or mobile (or similar device) to store your preferences and provide us with certain information. These allow you to carry information across our site without having to re-enter it; it also enables us to analyse web traffic and improve our activities and services. Cookies, by themselves, do not tell us your email address or other personal information unless you choose to provide this information to us e.g. by registering as a member of MWNUK or making a donation through this website. Once you provide personal information, this may be linked to the data stored in the Cookie. For example, we may use cookies to personalise your experience on our web pages (such as to recognise you by name when you return to our site).You may set your web browser to notify you of cookie placement requests or to decline cookies completely. You can delete the files that contain cookies.
A cookie is unique to your computer or such other device that you use to browse our website(s) and can only be read by the server that gave it to you. We use cookies to understand how you use our website so we can improve the service we provide. Cookies therefore help us to be more efficient and it may also save you time.
Different Types of Cookies
Session Cookies - These will expire and delete themselves automatically after a short period of time such as when you leave our website or when you close your web browser. These will allow you to navigate through different web pages without having to re-enter information..
Permanent Cookies – These will be stored on your browser cache or mobile device until you choose to delete them. However, they will delete themselves at their expiry date. These will help to remember your preferences and your log in details so you do not have to re-enter them every time you revisit any of our websites.
Essential Cookies - These cookies are essential to enable you to move around the website and use its features, such as accessing secure areas. It may not be possible for you to carry out certain web-based activities without using these cookies, for example making a donation. .
Performance Cookies - These will help us understand how our members, service users and/or visitors arrive at, browse or use our website(s).
Advertising Cookies- These cookies collect information about your browsing habits. These can then be used to show you advertisements that may be relevant to your interests.
Third Party Cookies - Some of the cookies that will be used that have already been described may be stored on your device by third parties when you use our website. We have no control over such cookies. They are used to allow third parties to provide a service to us; for example Google Analytics will help us to understand how many visitors we have had and their user journey on our respective websites. Other examples include LinkedIn and Youtube.
How you can control Cookies
If you have configured your browser to accept cookies, then you are consenting for us to use cookies when you use our website. You can control which cookies you accept by configuring your browser to accept all cookies or not receive cookies and to alert you every time a website's server offers a cookie. You can also delete existing cookies from your browser. However, may find that in doing so some parts of the website will not function.
Why we use Cookies
The reasons why we use or may use any or all of the types of cookies mentioned above, include (but are not limited to):
To aid navigation of our website(s) and use our features on any such websites
To record the number of unique visitors to our website(s) and to particular pages on each website
To measure and analyse how our members, service users and/or visitors use our websites, and to improve both its functionality and your experience with MWNUK, MWN Hub, MWN TV and/or MWN Helpline.
To remember your preferences (such as your choice of language or location) so that the user experience is personal to you and helps to save you time
To deliver information or adverts which may be relevant to you now or in the future
Additional information
Please contact us if you believe that a type of cookie or specific information as to how or why we use cookies is missing. We also ask that you read our privacy policy. Please also let us know if you have any queries about this Cookies policy and/or our privacy policy.
Help us to improve social justice and equality for women and girls
Our Supporters
Jess Phillips MP
Labour Party
MWNUK is courageous because of the uncompromising and fearless positions it sometimes takes when calling out injustice and inequality
Sadiq khan
London Mayor
I am proud to support and champion this fantastic organisation, which is informing policy and transforming lives.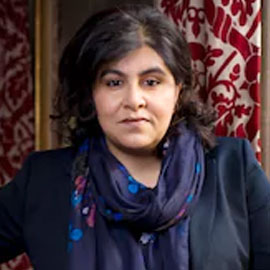 Baroness Sayeeda Warsi
Conservative Party
MWNUK's authenticity comes from knowledge of lived experiences of Muslim women and girls acquired through their helpline, research and members.
Naz Shah MP
Labour Party
They work tirelessly with passion and commitment to make a difference and improve outcomes for some of the most vulnerable women and girls in society.
Dr Shola Mos-Shogbamimiu
Lawyer, Political & Women's Rights Activist
There is no greater time than now for the voices, representation and power of Muslim women to be visible in the feminist movement and all walks of life. MWNUK is a vital force in delivering this much needed balance and representation.