Transforming with Digital
Charity Governance Awards 2021
In May 2021, MWNUK were pleased to have won the national Charity Governance Award. Having won in the category of 'Improving Impact' in 2019 and 'Embracing Opportunity & Harnessing Risk' in 2020, this year we have won in the category of 'Transforming with Digital'.

The judges were impressed by - in their words - our inspiring level of ambition and the way our trustees developed our digital strategy, assessed risks and made investments - and were impressed by the support and openness of the board to learn and evolve.

A huge thank you to the entire MWNUK team - our trustees, staff, volunteers, funders and partners - for all their hard work and dedication which has made it possible for us to be bestowed with this incredible honour three years in a row. Thank you to the Charity Governance Award team (including judges and partners) for this incredible recognition and for inviting our Co-Chair Nazmin Akthar to be part of your panel discussion.


Embracing Opportunity & Harnessing Risk
Charity Governance Awards 2020
In May 2020, MWNUK were pleased to have won the national Charity Governance Award in the "Embracing Opportunity & Harnessing Risk" category; organised by the Clothworker's Foundation in partnership with the Clothworker's Company, New Philanthropy Capital, Prospectus and Reach Volunteering.

Our nomination focused on the delivery of all our workshops and training programmes over the years. We were told that "judges were impressed with the way in which the board was able to apply great thought and judgment into where their efforts as a charity should be focused... the board's vision to effect change was extremely powerful."

We are the only charity to have won a Charity Governance Award two years in a row and are honoured by the recognition. Last year we won the £5000 prize for "Improving Impact" (4 – 25 staff category). We would like to wholeheartedly thank all our funders and our partners who have believed in us, shared our vision for change and worked with us to raise awareness of issues and effect change through capacity building & skills training.


Improving Impact
Charity Governance Awards 2019
In May 2019, the Muslim Women's Network UK were thrilled to win the £5000 award for Improving Impact (4-25 Staff) at the Charity Governance Awards. The award, which was also sponsored by the Cloth Workers Company, was collected by our Chair, Nazmin Akthar on behalf of MWNUK. For the first time ever they announced joint winners for this category, we were proud to share the accolade with fellow winners Derry Well Women based in Northern Ireland.

Winning an award is always an honour but to win because our board have been, "demonstrating best-practice in an evidence-based approach to strategic and operational decision making", is simply the best recognition we could have received. In her winner's statement Nazmin thanked all our funders, especially the Joseph Roundtree Charitable Trust who have supported us from the beginning. She said, "the trust and faith placed in us by our funders is what motivates us trustees to strive for excellence and ensure we are truly meeting our charitable aims."


Excellence in Contribution to the Community
Greater Birmingham Chamber of Commerce Awards 2017
In March 2017 the Muslim Women's Network UK were the proud recipients of theExcellence in Contribution to the Community award, presented to us by the Greater Birmingham Chamber of Commerce. The awards ceremony was hosted by broadcaster Gyles Brandreth and the award was collected by our Outreach Worker Zaheda, on behalf of MWNUK.

The award highlighted the incredible difference that MWNUK has made in advocating for the rights of women and girls in the West Midlands and nationally and really highlighted the importance of making our work known as widely as possible.


Help us to improve social justice and equality for women and girls
Our Supporters
Jess Phillips MP
Labour Party
MWNUK is courageous because of the uncompromising and fearless positions it sometimes takes when calling out injustice and inequality
Sadiq khan
London Mayor
I am proud to support and champion this fantastic organisation, which is informing policy and transforming lives.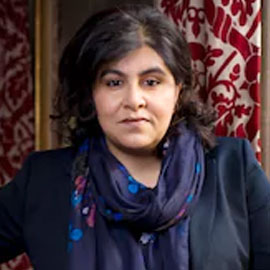 Baroness Sayeeda Warsi
Conservative Party
MWNUK's authenticity comes from knowledge of lived experiences of Muslim women and girls acquired through their helpline, research and members.
Naz Shah MP
Labour Party
They work tirelessly with passion and commitment to make a difference and improve outcomes for some of the most vulnerable women and girls in society.
Dr Shola Mos-Shogbamimiu
Lawyer, Political & Women's Rights Activist
There is no greater time than now for the voices, representation and power of Muslim women to be visible in the feminist movement and all walks of life. MWNUK is a vital force in delivering this much needed balance and representation.