Media Statement
CONGRATULATIONS TO ENGLANDS LIONESSES – INSPIRING MUSLIM GIRLS TO PLAY FOOTBALL TOO
MWNUK would like to congratulate England's Lionesses on their ground-breaking achievement of winning Euro 2022. They have inspired women and girls across different communities. Many young Muslim girls too are now more likely to take up football. Even though England's national team lacks diversity, the attention on women's football presents an opportunity to improve access to training and opportunities.
Details
Research
INVISIBLE: Maternity Experiences of Muslim Women
The #APPGMuslimWomen launched its report on, 'INVISIBLE: Maternity Experiences of Muslim Women'. The report has accounts from more than 1000 Muslim women with recent experience of maternity services.
It is clear that "there is a need for change - all those involved in delivering maternity care must not just say they are listening but show they are listening."
Details
Video
Tech Abuse and Safety - A Short Film by Muslim Womens Network UK
Whether you're a survivor of tech abuse or a professional, this video will equip with tips to understand how best to protect yourself from being abused, harassed or stalked through your technological devices.
Details
Help us to improve social justice and equality for women and girls
Our Supporters
Jess Phillips MP
Labour Party
MWNUK is courageous because of the uncompromising and fearless positions it sometimes takes when calling out injustice and inequality
Sadiq khan
London Mayor
I am proud to support and champion this fantastic organisation, which is informing policy and transforming lives.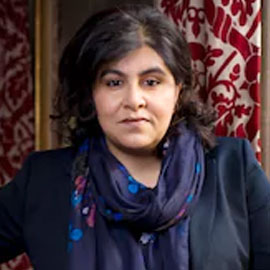 Baroness Sayeeda Warsi
Conservative Party
MWNUK's authenticity comes from knowledge of lived experiences of Muslim women and girls acquired through their helpline, research and members.
Naz Shah MP
Labour Party
They work tirelessly with passion and commitment to make a difference and improve outcomes for some of the most vulnerable women and girls in society.
Dr Shola Mos-Shogbamimiu
Lawyer, Political & Women's Rights Activist
There is no greater time than now for the voices, representation and power of Muslim women to be visible in the feminist movement and all walks of life. MWNUK is a vital force in delivering this much needed balance and representation.