Who are Our Members?
Our members are mainly Muslim women living in the UK while our non-Muslim members work with or on behalf of Muslim women and girls or are simple interested in supporting their rights. Our membership is diverse in in terms of ethnicity, age, religious background (including religious sect), lifestyles, sexual orientation, geographic location and different employment sectors. Members also include men who wish to support and champion women's rights. As our members are onwardly connected to other Muslim women, we collectively (through our membership) have a reach of tens of thousands of women.



Why Become a Member?
The more people that are involved, the more information and knowledge can be shared. So become a member and help us create a critical mass of voices that is a part of a movement to bring about change in local communities, policies and wider society.
If you become a member, you will:
Be invited to participate in MWNUK workshops and meetings.
Be consulted on your views on issues that not only affect Muslim women but the Muslim community as a whole which can then be forward to Government and other public bodies.
Receive a monthly newsletter keeping you up to date with our activities, news, consultations, events and other interesting information.

Kept informed via email about anything relevant to Muslim women and girls.
Be invited to attend MWNUK's Annual General Meeting at which you can help shape our priorities and its institutional development.
Have opportunity to collaborate with us on ideas and projects e.g. we have partnered with members to hold events.

Have opportunity to network, share knowledge, skills and good practice with Muslim women's groups across the UK.
Help us to improve social justice and equality for women and girls
Our Supporters
Jess Phillips MP
Labour Party
MWNUK is courageous because of the uncompromising and fearless positions it sometimes takes when calling out injustice and inequality
Sadiq khan
London Mayor
I am proud to support and champion this fantastic organisation, which is informing policy and transforming lives.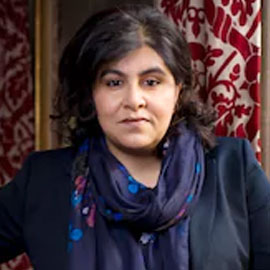 Baroness Sayeeda Warsi
Conservative Party
MWNUK's authenticity comes from knowledge of lived experiences of Muslim women and girls acquired through their helpline, research and members.
Naz Shah MP
Labour Party
They work tirelessly with passion and commitment to make a difference and improve outcomes for some of the most vulnerable women and girls in society.
Dr Shola Mos-Shogbamimiu
Lawyer, Political & Women's Rights Activist
There is no greater time than now for the voices, representation and power of Muslim women to be visible in the feminist movement and all walks of life. MWNUK is a vital force in delivering this much needed balance and representation.