Muslim Women to Raise Awareness of Organ Donation
Download PDF
Media Statement
20th May 2023
Muslim Women to Raise Awareness of Organ Donation
Muslim Women's Network UK (MWNUK) have been awarded £10,000 of £685,000 funding from NHS Blood and Transplant Community Grants Programme Scheme to tackle health inequalities and promote organ, blood, and stem cell donation among Black and Asian communities.
MWNUK is participating in this initiative because more donors are urgently needed from Black and Asian communities Because they are more likely to be a match for people from the same ethnic background. Currently, people from Black, Asian, Mixed or Other minority ethnic backgrounds make up one third of all people on the transplant waiting list and have to wait longer to an organ transplant due to the difficulties finding a match. White patients have about 80-90% chance of finding a stem cell match from a stranger. However Black, Asian and mixed-race people can only find a stem cell match from a stranger around 30-40% of the time.
Although the new organ donation law, which came into force three years ago in May 2020, means that upon your death it will be considered that you have agreed to donate your organs (unless you opted out), a family member could refuse to donate your organs. It is therefore important that Muslims have conversations with family members about organ donation to make their wishes known should anything happen to them – it could save so many lives. Such conversations are not really taking place because no one likes to talk about death. We believe Muslim women can play a key role to have such conversations within families and within their communities. Muslim women are also likely to play a key role in decisions taken after family member passes away.
Iram Sattar, MBE, Co-Chair and Trustee of MWNUK, who lost her younger brother Farhan Sattar, last year, while he was waiting for a heart transplant said: this is a reminder of the real-life impact of not having a suitable heart for my brother, who had a young family and his whole life ahead of him. Due to the lack of diverse donors from Black and Asian people, sadly my brother lost his life. I want to now help save lives by sharing my brother's story through this initiative.
Baroness Shaista Gohir, OBE CEO of MWNUK said: "Through this campaign we hope to also raise awareness of the Islamic perspective on organ donation. There are many Islamic scholars that have said it is accepted in Islam and is a commendable action because it each deceased person can save up to nine lives."
To register on the NHS Organ Donor Register, call 0300 123 23 23 or visit www.organdonation.nhs.uk
The Community Grants Programme is part of a government-funded campaign, led by NHS Blood and Transplant, with support from the National BAME Transplant Alliance (NBTA), and support and funding from Anthony Noland, to address the urgent need for donors from black, Asian and mixed ethnic backgrounds.
Ends
Additional Information
Media enquiries can be directed to: contact@mwnuk.co.uk
Muslim Women's Network UK is a national charity and more information can be found on its website: https://www.mwnuk.co.uk
Help us to improve social justice and equality for women and girls
Our Supporters
Jess Phillips MP
Labour Party
MWNUK is courageous because of the uncompromising and fearless positions it sometimes takes when calling out injustice and inequality
Sadiq khan
London Mayor
I am proud to support and champion this fantastic organisation, which is informing policy and transforming lives.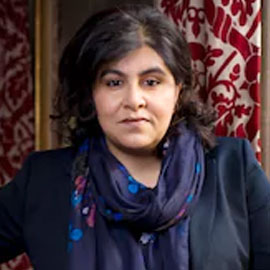 Baroness Sayeeda Warsi
Conservative Party
MWNUK's authenticity comes from knowledge of lived experiences of Muslim women and girls acquired through their helpline, research and members.
Naz Shah MP
Labour Party
They work tirelessly with passion and commitment to make a difference and improve outcomes for some of the most vulnerable women and girls in society.
Dr Shola Mos-Shogbamimiu
Lawyer, Political & Women's Rights Activist
There is no greater time than now for the voices, representation and power of Muslim women to be visible in the feminist movement and all walks of life. MWNUK is a vital force in delivering this much needed balance and representation.