Maternity Experiences of Muslim Women – Invisible, Neglected and Bullied into labour Inductions
Download PDF
Embargoed until 13 July 2022
Maternity Experiences of Muslim Women – Invisible, Neglected and Bullied into labour Inductions
The report, 'Invisible – Maternity Experiences of Muslim Women from Racialised Minority Communities,' was launched by the APPG on Muslim Women and the Muslim Women's Network UK on 13th July 2022 at the House of Commons. The research uncovered a culture of maternity abuse that is contributing to 1 in 5 Muslim women saying their maternity care is 'poor' or 'very poor,' particularly during their labour, birth and the post birth period in hospital.
The maternity experiences of Muslim women were researched because religious discrimination is being overlooked. Now that maternity healthcare professionals and service providers are finally considering the role of discrimination in poor maternal outcomes, the spotlight has been cast on race which means that maternal experiences of Muslim women remain hidden. Given that one in three members of BAME communities are Muslim, a sizeable number of women who suffer both racial and religious discrimination are not being given a voice.
During the research 1022 Muslim women completed an online survey, 37 women gave in-depth interviews and one focus group was held with Somali women. In contrast to the Ockenden inquiry which found women were pushed towards having a natural labour, this research found that Muslim women's labour and birth were being over medicalised.
Women were being bullied into having labour inductions without reasonable medical justifications even though starting uterine contractions artificially places a greater toll on the woman's body and is not always in the best interest of the mother and baby. The research found other inequalities too. When experiences were compared to national average statistics, data showed that Muslim women from racialised minority communities were:
1.6 times more likely to have their labour induced
1.5 times less likely to be given an epidural for pain relief
1.4 times more likely to have an instrumental birth
2.4 times more likely to have postpartum haemorrhage
2.1 times more likely to be in prolonged labour
1.3 times more likely to have an emergency caesarean
Furthermore, the research also found a clear hierarchy in bias so that women from specific sub-ethnic groups, such as Bangladeshi, Arab and Black African women and Asian Other women were found to have far worse experiences. When assessing maternity care, the current approach of lumping women together into broad groups such as Black, South Asian and Other therefore misses the differences in health inequalities between the different sub­groups of women and is an example of systemic discrimination. If women are invisible in data analysis, their maternity care will not be improved. For example, Arab women are not mentioned as a minority ethnic group to be concerned about, yet the survey suggested they were amongst the groups with the worst experiences and most likely to have a prolonged labour and vaginal tears. Of the South Asian group, Bangladeshi women were most likely to
have had their labour induced, an instrumental birth, an emergency caesarean and to have suffered from an infection after giving birth. Pakistani women were amongst those most likely to experience excessive blood loss. Black women from all backgrounds were the least likely to be given pain relief. Another group not mentioned in maternal inequality discussions is Somali women, yet they provided the most unfavourable assessments of healthcare professionals - even describing their maternity experiences as 'horror stories' and their care as 'dangerous' and that they 'felt lucky to be alive.' They described being treated as 'less than human' and spoke of excessive physical forced being used. For example, one woman said she felt like her whole womb had been pulled out.
Baroness (Shaista) Gohir OBE, author of the report, and also the CEO of Muslim Women's Network UK, said: "While the research found that many Muslim women do have positive experiences, the minority of women that don't, is too large a number to ignore. It means that every year thousands of Muslim women are having traumatic experiences and being put in life threatening situations that are avoidable. Sub-standard maternity is no doubt contributing to maternal mortality, neonatal deaths and stillbirths. The lack of compassion, respect and dignity shown to women at times was also shocking. In one extremely sad case the baby died prior to birth due to a catalogue of errors. Even though the staff knew the woman was delivering a stillborn baby, she was not provided with any pain relief despite requests. She was also not checked upon for several hours at a time and when she eventually was, four students were bought in without her permission. Such appalling treatment during such a traumatic time is unacceptable."
While mistreatment was not always due to discrimination, it was clear that some maternity staff do treat women less favourably because of their race, ethnicity, faith, clothing and accent. Comments included: 'All you people do is make babies,' 'I hope this one can speak English,' and 'I see five of you lot per day.' Women spoke of 'feeling humiliated', being 'mocked', 'feeling like an experiment', being 'made to feel like a nuisance' and 'feeling unheard and unseen'. Sexist and racist stereotypes that assume South Asian women are exaggerating their health concerns (also known as Mrs Bibi or Begum syndrome) contributed to women not being listened to and not even being believed that they were about to give birth until midwives saw the baby's head crowning. There were examples of women resorting to taking off their headscarf or dressing in more Western clothes because they noted a difference in attitude towards them when they altered the way they dressed.
Baroness (Shaista) Gohir OBE said: "The higher maternal mortality rates for Black and Asian women has been known for twenty years but the focus on factors such as their physiology, language barriers, or socioeconomic factors has avoided the uncomfortable truth that maternity care service delivery systems, and some of the people who work in them are contributing to their poor outcomes. To effectively tackle the inequalities in maternity care, a better understanding is needed in how multiple intersecting forms of discrimination are associated with poor maternity outcomes. Urgent action must therefore involve a cultural shift in attitudes towards how minority ethnic pregnant women are perceived, cared for, provided with maternity information, involved in decisions about their bodies and studied in maternity data - it will prevent avoidable deaths. To ensure the NHS is not marking its own homework, an independent Maternity Commissioner from outside of the NHS should be appointed to provide scrutiny and hold all agencies to account."
The report makes 45 recommendations, divided into four calls to action, which are:
1) Better data collection, analysis and utilisation of equality data to hold individuals and organisations to account.
2) Maternity services better adapted and tailored to meet the needs of ethnically diverse local populations
3) A cultural shift in attitudes and behaviours towards racialised minority communities by healthcare professionals and maternity service providers
4) Improving maternal empowerment through better information provision about their risks, their rights and complaints processes so that they are better equipped to hold maternity care providers to account
Caroline Nokes MP, Co-Chair of APPG on Muslim Women said: "Women were let down by some individual healthcare professionals and also systems that did not meet their needs. Although this research focused on Muslim women, the findings will benefit all women.
Naz Shah MP, Co-Chair of APPG on Muslim Women said: "Every woman has the right to feel safe when accessing maternity care, the findings of this report will help to shape maternity services so they can better meet the needs of women who have intersecting identities."
Dr. Iram Sattar MBE, GP and Co-Chair of Muslim Women's Network UK said: "This report makes for difficult and uncomfortable reading especially being a healthcare professional. It made me reflect on my own practice and whether I give more time and care to those who know their rights and are more likely to complain and less time and care to those who don't know their rights."
Additional Information
· Media enquiries can be directed to: contact@mwnuk.co.uk or Shaista@mwnuk.co.uk
· The full 220 page report and the summary report can be downloaded here: https://www.mwnuk.co.uk/reports.php
· The 40 page summary can be downloaded here: https://www.mwnuk.co.uk/resourcesDetail.php?id=257
· The Co-Chairs of the APPG on Muslim Women are Caroline Nokes MP and Naz Shah MP. Information about the APPG and other officers can be found here: https://www.mwnuk.co.uk/appg.php
· Muslim Women's Network UK is a national charity and is also the Secretariat of the APPG on Muslim Women. Information about the charity can be found here: https://www.mwnuk.co.uk
Help us to improve social justice and equality for women and girls
Our Supporters
Jess Phillips MP
Labour Party
MWNUK is courageous because of the uncompromising and fearless positions it sometimes takes when calling out injustice and inequality
Sadiq khan
London Mayor
I am proud to support and champion this fantastic organisation, which is informing policy and transforming lives.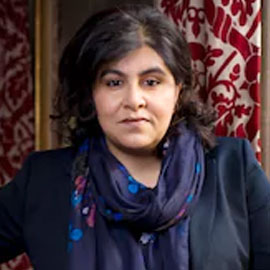 Baroness Sayeeda Warsi
Conservative Party
MWNUK's authenticity comes from knowledge of lived experiences of Muslim women and girls acquired through their helpline, research and members.
Naz Shah MP
Labour Party
They work tirelessly with passion and commitment to make a difference and improve outcomes for some of the most vulnerable women and girls in society.
Dr Shola Mos-Shogbamimiu
Lawyer, Political & Women's Rights Activist
There is no greater time than now for the voices, representation and power of Muslim women to be visible in the feminist movement and all walks of life. MWNUK is a vital force in delivering this much needed balance and representation.