Green Scarf Campaign - Supporting Afgan Women
1000 photos were collected through a photo petition of men and women from all cultures and faiths wearing a green scarf to show their solidarity with Afghan women. Green scarves are a symbol of the AfghaN Women's Network, a leading women's organisation, whose members wear green scarves as a show of strength and unity.
The petition was presented to the British Foreign Secretary William Hague before the December 2011 Bonn Conference where world leaders met to set the future course for Afghanistan. The campaign called for ensuring women's rights were guaranteed in any political settlements and not forgotten.
The campaign was supported by 17 aid and women's rights organisation, including Oxfam, CARE, Women for Women International and Muslim Women's Network UK. The Green Scarf campaign was also backed by celebrities including Annie Lenox, Helen Mirren, Alesha Dixon, Shazia Mirza as well as Pakistani pop star Hadiqa Kiani and Middle East chat show host Nashwa Al Ruwaini. Renowned Muslim's scholar Amina Wadud also endorsed the campaign.
Help us to improve social justice and equality for women and girls
Our Supporters
Jess Phillips MP
Labour Party
MWNUK is courageous because of the uncompromising and fearless positions it sometimes takes when calling out injustice and inequality
Sadiq khan
London Mayor
I am proud to support and champion this fantastic organisation, which is informing policy and transforming lives.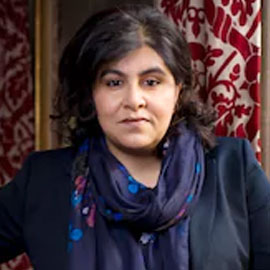 Baroness Sayeeda Warsi
Conservative Party
MWNUK's authenticity comes from knowledge of lived experiences of Muslim women and girls acquired through their helpline, research and members.
Naz Shah MP
Labour Party
They work tirelessly with passion and commitment to make a difference and improve outcomes for some of the most vulnerable women and girls in society.
Dr Shola Mos-Shogbamimiu
Lawyer, Political & Women's Rights Activist
There is no greater time than now for the voices, representation and power of Muslim women to be visible in the feminist movement and all walks of life. MWNUK is a vital force in delivering this much needed balance and representation.