Sophie Garner
GENERAL SECRETARY
Sophie joined MWNUK in 2016. She is a barrister and mediator, specialising in employment and discrimination law, practising from Birmingham. Alongside her legal career, over 25 years, she has developed a parallel voluntary career during which she has undertaken a variety of roles such as trustee/chair/treasurer or company secretary for different voluntary organisations. The organisations she has worked with have been predominantly women's/human rights organisations such as a women's refuge, a human rights/capital punishment charity and the Discrimination Law Association. She is currently also working with a small charity that works to foster community cohesion across racial, religious and cultural divides. She is a professionally qualified Company Secretary, a qualification which means she brings governance skills and a commercial angle to the voluntary roles she undertakes. She was the lead writer and presenter of DLA's evidence for the 2012 Select Committee on Women in the Workplace and was recognised as one of the Attorney General's 'Pro-Bono Heroes' in 2009. Although not a Muslim herself, Sophie's professional and voluntary careers have given her a clear insight into the difficulties facing Muslim women in the UK today.
Help us to improve social justice and equality for women and girls
Our Supporters
Jess Phillips MP
Labour Party
MWNUK is courageous because of the uncompromising and fearless positions it sometimes takes when calling out injustice and inequality
Sadiq khan
London Mayor
I am proud to support and champion this fantastic organisation, which is informing policy and transforming lives.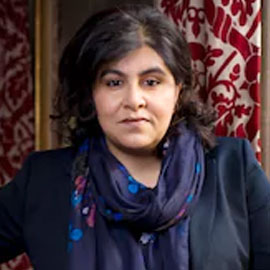 Baroness Sayeeda Warsi
Conservative Party
MWNUK's authenticity comes from knowledge of lived experiences of Muslim women and girls acquired through their helpline, research and members.
Naz Shah MP
Labour Party
They work tirelessly with passion and commitment to make a difference and improve outcomes for some of the most vulnerable women and girls in society.
Dr Shola Mos-Shogbamimiu
Lawyer, Political & Women's Rights Activist
There is no greater time than now for the voices, representation and power of Muslim women to be visible in the feminist movement and all walks of life. MWNUK is a vital force in delivering this much needed balance and representation.