Links
View Comments(0)

Female Asian Icons in Britain Honoured
Date
:
22/ 5/ 2009
By
:

Source: The Asian News

THE achievements of ten Asian women were recognised at an awards

ceremony in London attended by The Prince of Wales and The Duchess

of Cornwall. Judges of the Asian Women of Achievement Awards, chaired by British Red Cross chief executive Sir Nicholas Young, said this year's winners were some of the most impressive and inspiring individuals ever to be honoured in the programme's 10-year history.

Businesswoman Vin Murria, who holds several senior roles with multi-national companies including Advanced Computer Services, was presented with the Lloyds TSB AWA Award by Prince Charles. The judges said that Vin, who set up the PS Foundation to support the education of children in India, was a 'perfect ambassador and role model for Asian women in Britain', praising her ability to commit her 'seemingly endless energy and intellect' to her career, her family and her charity work.

The Prince of Wales was presented with the Global Empowerment Award by the programme's founder, Indian born author and entrepreneur Pinky Lilani OBE, in recognition of his work empowering disadvantaged communities and individuals around the world.

Now in their 10th year, the Asian Women of Achievement Awards, held in association with Lloyds TSB, celebrate the contribution of Asian women to British life in the media, business, the arts, politics and the voluntary sector.

This year's winners were;

The Arts & Culture Award

- Sri Lankan opera singer Kishani Jayasinghe, the first South Asian soprano to sing at the Royal Opera House (ROH)

Business Woman of the Year

- Veera Johnson, CEO, Procserve, an electronic procurement solutions and services company

Entrepreneur of the Year Award

- Christina Vaughan, Image Source, the first non-American to be voted onto the Picture Agency Counsel of America Board

Media Professional of the Year

- Riz Lateef, BBC London News, one of the key figures in the coverage of the 2008 mayoral elections

The Social & Humanitarian Award

- Shaista Gohir, Muslim Women's Network, as a member of the National Muslim Women's Advisory Group, she also advises government

Young Achiever of the Year

- Neev Ranu, DJ her radio show on Kiss 100 attracts 607,000 listeners and has been nominated twice for the Asian Music Awards and Rehana Azib, barrister, she studied law at Oxford University and is a scholar of the Inner Temple (joint winners)

Professional of the Year

- Dr Sunita Verma, dentist, she set up Sparkle Dental Boutique, a multi award-winning private practice in west London

The Public Sector Award

- Vicki Treadell, British Deputy High Commissioner, Mumbai, a diplomat with 30 years' experience in policy and service delivery roles

Commenting on the night, Pinky Lilani said: "Each of these 10 women is making a breathtaking contribution to British society in very different ways. What unites them is their positive representation of Asian women and their ability to act as role models for others. We congratulate every one of them and thank them sincerely for their tremendous commitment."

Kamel Hothi, Asian markets director at Lloyds TSB Corporate Markets, said: "As entrepreneurs and executives of major global companies, this year's winners are a huge inspiration to Asian women in business. "This is the fifth year in which we have supported the Asian women of Achievement Awards and we're extremely proud to be involved.

"These awards are a great way of highlighting the role models in our community and celebrating the contribution they have made to this country."

The ceremony, compered by BBC newsreader Mishal Husain, was attended by patron Cherie Blair; Nick Clegg MP; actress Meera Syal; James Caan, entrepreneur and star of TV's Dragon's Den; The Rt Hon Tessa Jowell MP; chairman of the judges and chief executive of the British Red Cross Sir Nicholas Young; The Rt Hon Theresa May MP; Shami Chakrarbarti, director of Liberty; Baroness Kennedy QC; Baroness Greenfield; and Caroline Spelman MP.

The Asian Women of Achievement Awards were hosted by Real Business magazine in association with Lloyds TSB at the London Hilton on Park Lane.
Help us to improve social justice and equality for women and girls
Our Supporters
Jess Phillips MP
Labour Party
MWNUK is courageous because of the uncompromising and fearless positions it sometimes takes when calling out injustice and inequality
Sadiq khan
London Mayor
I am proud to support and champion this fantastic organisation, which is informing policy and transforming lives.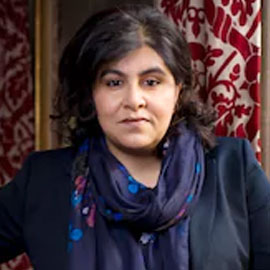 Baroness Sayeeda Warsi
Conservative Party
MWNUK's authenticity comes from knowledge of lived experiences of Muslim women and girls acquired through their helpline, research and members.
Naz Shah MP
Labour Party
They work tirelessly with passion and commitment to make a difference and improve outcomes for some of the most vulnerable women and girls in society.
Dr Shola Mos-Shogbamimiu
Lawyer, Political & Women's Rights Activist
There is no greater time than now for the voices, representation and power of Muslim women to be visible in the feminist movement and all walks of life. MWNUK is a vital force in delivering this much needed balance and representation.