Muslim Womens Network UK announces new trustee – Ibtisam Belola
Download PDF
MEDIA STATEMENT
15th May 2023
Muslim Women's Network UK announces new trustee – Ibtisam Belola
The Muslim Women's Network UK announces the appointment of a new trustee Ibtisam Belola, who took up her role on the 12th May 2023, when she attended her inaugural board meeting.
Ibtisam is an accomplished professional with a specialism in user-centred design and research. She brings her wealth of experience to the charity's efforts to promote the rights and welfare of Muslim women in Britain. She is committed to promoting inclusivity, accessibility and collaboration within all aspects of her work and through her activities tries to ensure the voices and experiences of Muslim women in the UK are heard and valued.
She has worked extensively in the field of user experience design and research across both the private and public sector including the development of digital services for the Department for Education and multi-country studies for leading media and healthcare companies. Her expertise has played a key role in helping them to create user-friendly and accessible products that meet the needs of their customers.
Ibtisam is also a trustee at the charity Muslimah Sports Association, where she helps to develop initiatives that empower Muslim women and girls through sports and physical activity and advocates the need for greater engagement from National Governing Bodies.
Her passion for gender equality and women's rights led to her selection as a UN Women UK delegate at the United Nations Commission on the Status of Women.
Ibtisam holds a degree in Economics and Masters in Social and Consumer Research and in recognition of her contributions towards promoting social progress and positive change, Ibtisam was awarded a fellowship at the Royal Society of Arts (FRSA).
Ibtisam Belola said: "I am delighted and honoured to serve as a trustee for the Muslim Women's Network UK. I have followed the inspiring and impactful work of the charity and am committed to promoting the voices of Muslim women in shaping a more equitable and inclusive society. Together, with the accomplished board and dedicated staff at the charity I look forward to applying my research skills to help advance the charity's mission of gender equality and empowering Muslim women in the UK."
Additional Information:
1. For further information, email contact@mwnuk.co.uk and phone 0121 236 9000
2. We have three websites organisational: www.mwnuk.co.uk, helpline: www.mwnhelpline.co.uk and member: www.mwnhub.com
Help us to improve social justice and equality for women and girls
Our Supporters
Jess Phillips MP
Labour Party
MWNUK is courageous because of the uncompromising and fearless positions it sometimes takes when calling out injustice and inequality
Sadiq khan
London Mayor
I am proud to support and champion this fantastic organisation, which is informing policy and transforming lives.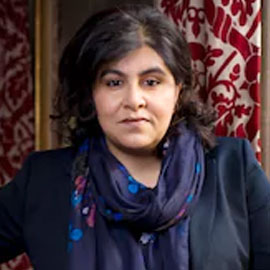 Baroness Sayeeda Warsi
Conservative Party
MWNUK's authenticity comes from knowledge of lived experiences of Muslim women and girls acquired through their helpline, research and members.
Naz Shah MP
Labour Party
They work tirelessly with passion and commitment to make a difference and improve outcomes for some of the most vulnerable women and girls in society.
Dr Shola Mos-Shogbamimiu
Lawyer, Political & Women's Rights Activist
There is no greater time than now for the voices, representation and power of Muslim women to be visible in the feminist movement and all walks of life. MWNUK is a vital force in delivering this much needed balance and representation.