Muslim Women's Network UK 20 Year Anniversary
Download PDF
MEDIA STATEMENT
6th May 2023
Muslim Women's Network UK – 20 Year Anniversary
It's Muslim Women's Network UK's anniversary! Our 20-year anniversary falls on 6th May 2023, the same day as the coronation of Charles III and his wife, Camilla, as king and queen of the United Kingdom, which makes the occasion even more special.
To mark this important milestone, we will have a series of announcements that will include the launch of a Muslim Women's Manifesto and a domestic abuse mobile application to help improve the safety of women and girls. We will also have a roadshow and visit different cities to hear directly from Muslim women to inform and shape our work.
A brief outline of our development history includes:
20 years ago (2003) - Muslim Women's Network as it was then known, was established as an informal group with the support of the Women's National Commission. Its first official meeting was held in May 2003 with Patricia Hewitt, who at the time was the Health Secretary and the Women's Minister.
15 years ago (2008) – The group was formally registered as a community interest company with the new name Muslim Women's Network UK in May 2008.
10 years ago (2013) – Muslim Women's Network UK was registered as a charity in December 2013.
Some of our key achievements have included:
Muslim women listening events leading to our first report 'She Who Disputes' (2005/06);
Ground-breaking research that helped to put a spotlight on the grooming and sexual exploitation of South Asian girls (2013);
Establishing a national helpline and counselling service (2015);
Research highlighting the inequalities experienced by Muslim women when accessing shariah councils (2016), the criminal justice system (2019), and maternity services (2022);
Producing resources that have been downloaded over 300,000 times with the most downloaded resource being on Muslim marriage and divorce;
Contributing to policy and law changes such as abolishing repatriation fees for forced marriage victims brought back to the UK, higher sentences for perpetrators of child sexual abuse who control victims by threatening to expose to family and threats to share intimate images being made illegal;
Winning awards consecutive National Charity Governance Awards (2019, 2020 & 2021);
Establishing the APPG with parliamentarian and becoming its Secretariat (2020); and
Two founding members of MWNUK being appointed to the House of Lords on the Crossbenches, Baroness Haleh Afshar OBE (2007) and Baroness Shaista Gohir OBE (2022).
Founding member and CEO of MWNUK, Baroness Shaista Gohir OBE said: "I could not have imagined the growth and the impact that Muslim Women's Network UK would go on to have when it was first formed 20 years ago. Muslim women are now more visible than ever before in different sectors and we hope to continue championing their voices within Muslim communities, in wider society and in policy making."
The longest serving trustee and current Co-Chair, Dr. Iram Sattar MBE said: "I want to thank the other trustees, staff and volunteers past and present. The majority of our staff started as volunteers including the current CEO Shaista Gohir OBE and former Executive Director Faeeza Vaid MBE. This emphasises the importance of volunteering within communities and how volunteers can be key agents for social transformation."
We would like to thank our donors who believed in our work and helped us to grow from strength to strength to now 17 staff. We would especially like to thank Joseph Rowntree Charitable Trust which provided the initial seed funding back in 2007, when we did not even have a bank account and had to ask another women's group to accept the funds on our behalf. JRCT continued to support us until 2023.
Key funders that helped to establish the national helpline and counselling service, conduct research, deliver campaigns, carry our advocacy work, produce resources and training and of course give us the funds we needed for core costs has included: Barrow Cadbury Trust, Birmingham City Council, Charles Hayward Foundation, Comic Relief, Esmée Fairbairn Foundation, Henry Smith Charity, Lloyds Bank Foundation, National Lottery, Rank Foundation, Sports England, Tudor Trust and West Midlands Police Crime Commissioner. Various government departments (Ministry of Justice, Home Office, FCDO, MHCLG and DCMS) have also provided grants to raise awareness of violence against women and girls, provide helpline support and to develop our IT infrastructure. To our new funders, Pears Foundation, John Ellerman Foundation and NHSBT, thank you for also having faith in our work.
Additional Information:
1. For further information, email contact@mwnuk.co.uk and phone 0121 236 9000
2. We have three websites organisational: www.mwnuk.co.uk, helpline: www.mwnhelpline.co.uk and member: wwwmwnhub.com
Help us to improve social justice and equality for women and girls
Our Supporters
Jess Phillips MP
Labour Party
MWNUK is courageous because of the uncompromising and fearless positions it sometimes takes when calling out injustice and inequality
Sadiq khan
London Mayor
I am proud to support and champion this fantastic organisation, which is informing policy and transforming lives.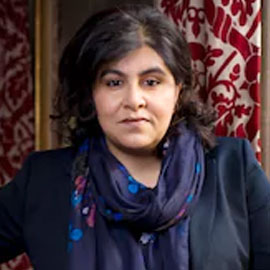 Baroness Sayeeda Warsi
Conservative Party
MWNUK's authenticity comes from knowledge of lived experiences of Muslim women and girls acquired through their helpline, research and members.
Naz Shah MP
Labour Party
They work tirelessly with passion and commitment to make a difference and improve outcomes for some of the most vulnerable women and girls in society.
Dr Shola Mos-Shogbamimiu
Lawyer, Political & Women's Rights Activist
There is no greater time than now for the voices, representation and power of Muslim women to be visible in the feminist movement and all walks of life. MWNUK is a vital force in delivering this much needed balance and representation.