The Muslim Womens Advisory Group is not linked to Baroness Cox
Download PDF
MEDIA STATEMENT


6th March 2023
On the 31st January 2023, Muslim Women's Network UK launched a 'Muslim Women's Advisory Group'. We would like to make clear that this group has not engaged with or supported the work of the Crossbench Peer, Baroness Cox in any way. This clarification is being made due to Baroness Cox recently being quoted in the media as stating that she has "strong support from Muslim Women, including the Muslim Women's Advisory Group.."
The alleged links between Baroness Cox (who often mentions Muslim women in her campaign work) and anti-Islam activists and organisations were recently explored in a report by the anti-racism group Hope Not Hate. MWNUK is concerned to see that Muslim women, and the experience they can have of discrimination within their own communities, being weaponised by activists to further an anti-Muslim agenda. Sadly, using Muslim women as a political football in this way is not new. It is anti-Muslim activists who pose the real threat to the safety of Muslim communities across the UK, and we therefore commend Hope Not Hate for revealing that their influence may be seeping into our political institutions.
Additional Information
•
Media enquiries can be directed to: contact@mwnuk.co.uk
•
Muslim Women's Network UK is a national charity and more information can be found on its website: https://www.mwnuk.co.uk
Help us to improve social justice and equality for women and girls
Our Supporters
Jess Phillips MP
Labour Party
MWNUK is courageous because of the uncompromising and fearless positions it sometimes takes when calling out injustice and inequality
Sadiq khan
London Mayor
I am proud to support and champion this fantastic organisation, which is informing policy and transforming lives.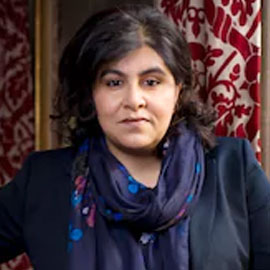 Baroness Sayeeda Warsi
Conservative Party
MWNUK's authenticity comes from knowledge of lived experiences of Muslim women and girls acquired through their helpline, research and members.
Naz Shah MP
Labour Party
They work tirelessly with passion and commitment to make a difference and improve outcomes for some of the most vulnerable women and girls in society.
Dr Shola Mos-Shogbamimiu
Lawyer, Political & Women's Rights Activist
There is no greater time than now for the voices, representation and power of Muslim women to be visible in the feminist movement and all walks of life. MWNUK is a vital force in delivering this much needed balance and representation.