The World Mourns Our Queen
Download PDF
08 September 2022
Media Statement
The World Mourns Our Queen
The Muslim Women's Network UK (MWNUK) are deeply saddened to learn of the death of Her Majesty Elizabeth the Second. She has worked tirelessly in service of this country, and as the constitutional monarch of the United Kingdom, Canada and 14 other Commonwealth realms, Queen Elizabeth II has been a beacon to many. Celebrating her Jubilee reign recently allowed us all to remember some of those contributions.
As a national charity promoting equality for all women and girls, we reflect on her speech from the 28th October 2011, at the Commonwealth Heads of Government meeting opening ceremony in Perth, Australia, Her Majesty said:
"The theme this year is, 'Women as Agents of Change'. It reminds us of the potential in our societies that is yet to be fully unlocked, and it encourages us to find ways to allow all girls and women to play their full part."
Baroness Shaista Gohir OBE (CEO of MWNUK) said: "Her Majesty's role as the longest serving female monarch during a time when patriarchy has been endemic is nothing less than iconic. She will be remembered in history, and reminds me of what is possible."
MWNUK send our sincere condolences to The Royal Family and to all touched by her passing.
Close.
Additional Information
• Media enquiries can be directed to: contact@mwnuk.co.uk or shaista@mwnuk.co.uk
• Muslim Women's Network UK is a national charity and more information can be found on its website: https://www.mwnuk.co.uk
Help us to improve social justice and equality for women and girls
Our Supporters
Jess Phillips MP
Labour Party
MWNUK is courageous because of the uncompromising and fearless positions it sometimes takes when calling out injustice and inequality
Sadiq khan
London Mayor
I am proud to support and champion this fantastic organisation, which is informing policy and transforming lives.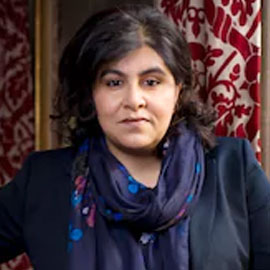 Baroness Sayeeda Warsi
Conservative Party
MWNUK's authenticity comes from knowledge of lived experiences of Muslim women and girls acquired through their helpline, research and members.
Naz Shah MP
Labour Party
They work tirelessly with passion and commitment to make a difference and improve outcomes for some of the most vulnerable women and girls in society.
Dr Shola Mos-Shogbamimiu
Lawyer, Political & Women's Rights Activist
There is no greater time than now for the voices, representation and power of Muslim women to be visible in the feminist movement and all walks of life. MWNUK is a vital force in delivering this much needed balance and representation.