Faeeza Vaid MBE Leaving Executive Director Position
Download PDF
29th October 2021
Announcement: Faeeza Vaid MBE Leaving Executive Director Position
The Muslim Women's Network UK Board announce that Executive Director Faeeza Vaid MBE will be leaving her position at MWNUK in December 2021.
Faeeza first volunteered for MWNUK in 2008 and became Executive Director of MWNUK in 2011 proving herself as a standout leader with excellent operational and strategic management skills. Her role has involved a myriad of project and programme development, training and facilitation, and as a naturally talented public speaker, has promoted issues through speaking at events and in the media.
Faeeza has played an integral role in MWNUK's journey and development and we have therefore invited her to join the Board in January 2021 to continue advancing social justice and women's equality. Co-Chair Shaista Gohir OBE will be stepping off the Board to take on the role of Interim Executive Director while we plan our next organisational steps.
"I have worked closely with Faeeza for more than 10 years and have witnessed first-hand that she has gone above and beyond to make MWNUK a success. She is not only a colleague but also a friend and I hope to continue working together on many exciting projects. On behalf of the MWNUK Board, I would like to thank her for her service and wish her every success in her future endeavours."
"It has been an immense honour working with exceptional individuals over the years. On reflection, we have achieved many milestones and have been at the forefront of transformative social change. Personally, I am sincerely grateful for the many opportunities and deep relationships I have had. I have learnt a lot and my life has been richer in so many ways.
My passion for tackling social inequalities remains and I hope to continue supporting MWNUK's work. I am also thrilled to be starting a new role in January as Programme Manager at The Active Wellbeing Society based in Birmingham.
So thank you MWNUK Family. And I look forward to keeping in touch."
Help us to improve social justice and equality for women and girls
Our Supporters
Jess Phillips MP
Labour Party
MWNUK is courageous because of the uncompromising and fearless positions it sometimes takes when calling out injustice and inequality
Sadiq khan
London Mayor
I am proud to support and champion this fantastic organisation, which is informing policy and transforming lives.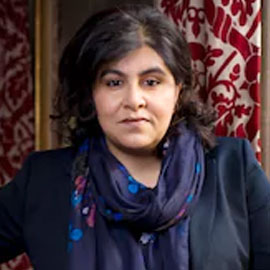 Baroness Sayeeda Warsi
Conservative Party
MWNUK's authenticity comes from knowledge of lived experiences of Muslim women and girls acquired through their helpline, research and members.
Naz Shah MP
Labour Party
They work tirelessly with passion and commitment to make a difference and improve outcomes for some of the most vulnerable women and girls in society.
Dr Shola Mos-Shogbamimiu
Lawyer, Political & Women's Rights Activist
There is no greater time than now for the voices, representation and power of Muslim women to be visible in the feminist movement and all walks of life. MWNUK is a vital force in delivering this much needed balance and representation.