Grenfell Tower: Community stands together in face of tragedy
Download PDF
15th June 2017
MEDIA STATEMENT
Grenfell Tower - Community stands together in the face of tragedy
Like all that saw Grenfell Tower go up in flames, The Muslim Women's Network UK (MWNUK) are deeply saddened and outraged by this preventable tragedy. Our thoughts, prayers, and condolences are with all those affected.
Such events shake communities to their core and on the first anniversary of Jo Cox's death it has been inspiring to see communities uniting in the face of such devastation, proving that her spirit lives on. As Jo said:
"We are far more united and have far more in common than that which divides us."
Jo Cox, first speech to Parliament
MWNUK recognise the inevitable trauma and grief for those affected and can offer some counselling support to those who need it; if you or anyone you know has been affected please call the MWN Helpline on 0800 999 5786.
Ends
Note to Editors
1. About Us
Muslim Women's Network UK is a national charity that works to improve social justice and equality for Muslim women and girls and operates a national helpline. We find out about their experiences through research and helpline enquiries and produce resources, deliver campaigns and conduct advocacy work, regularly engaging with government.
MWNUK organisational website: www.mwnuk.co.uk
MWN Helpline website: www.mwnhelpline.co.uk
MWN Helpline contact info: 0800 999 5768 / 0303 999 5786 / info@helpline.co.uk
2. Media Contacts
Media spokespeople from Muslim Women's Network UK are:
Faeeza Vaid, MWNUK Executive Director - 07535 703567 / faeeza@mwnuk.co.uk
Shaista Gohir MBE, MWNUK Chair - 07802 225989 / contact@shaistagohir.co.uk
Help us to improve social justice and equality for women and girls
Our Supporters
Jess Phillips MP
Labour Party
MWNUK is courageous because of the uncompromising and fearless positions it sometimes takes when calling out injustice and inequality
Sadiq khan
London Mayor
I am proud to support and champion this fantastic organisation, which is informing policy and transforming lives.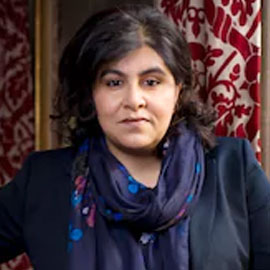 Baroness Sayeeda Warsi
Conservative Party
MWNUK's authenticity comes from knowledge of lived experiences of Muslim women and girls acquired through their helpline, research and members.
Naz Shah MP
Labour Party
They work tirelessly with passion and commitment to make a difference and improve outcomes for some of the most vulnerable women and girls in society.
Dr Shola Mos-Shogbamimiu
Lawyer, Political & Women's Rights Activist
There is no greater time than now for the voices, representation and power of Muslim women to be visible in the feminist movement and all walks of life. MWNUK is a vital force in delivering this much needed balance and representation.