History
Our Journey
A group of women came together on 6th May 2003 with the support of the Women's National Commission (WNC), to give independent advice to government on issues relating to Muslim women and public policy. The informal group named itself Muslim Women's Network (MWN). The original members of this Group included Baroness Haleh Afshar and Cassandra Balchin. Shaista Gohir joined the group soon after in 2005 and joined them to formerly establish the group as a Community Interest Company in May 2008. The name was changed to Muslim Women's Network UK (MWNUK). Shaista became its first Executive Director and Haleh was the inaugural Chair followed by Cassandra.

Shaista joined the board as a trustee in 2011 becoming the Chair in 2013 when MWNUK registered as a charity. Faeeza Vaid took over as the next Executive Director from 2011 after starting as a volunteer and working as a Co-ordinator. Other board members include Dr. Iram Sattar (Tresurer) who remains the longest serving board member as she joined the board in 2009 and Nazmin Akthar who became Vice-Chair in 2013 and Co-Chair in 2019. Dr. Khursheed joined the board in 2011 and Sophie Garner joined in 2017.

Shaista has played a key role with the support of the board and staff (pass and present) to transform MWNUK into a leading and respected national charity women's rights charity that has become an authority on Muslim women and girls.

Why was MWNUK set up?
Muslim Women's Network UK (MWNUK) was set up to the highlight the experiences of Muslim women and girls and give them a voice so their lived realities can:

- Inform policy and practice

- Help to challenge attitudes and stereotypes

- Inform any awareness raising / campaign work

- Result in open conversations about issues often swept under the carpet

Tribute to Cassandra Balchin (24 May 1962 - 12 July 2012)
It is with the deepest sadness and sorrow that MWNUK announced on 12/06/12 the death of our friend, colleague Cassandra Balchin. She was one of the founding members of MWNUK. Cassandra was only diagnosed a few months before her passing away and unfortunately lost her battle against cancer.
Cassandra was a great women's rights activist and worked tirelessly on advancing the rights of Muslim women. She was particularly an expert in family laws, marriage, divorce, parallel legal systems /plural legal orders and religious fundamentalisms. She wrote and contributed to many publications. No words can adequately can express our sadness at Cass' death or our gratitude for the honour and privilege to have worked with her. MWNUK endeavours to honour Cass's memory by continuing to dedicate ourselves to the work she loved so much. She is deeply missed by everyone who knew her across the world.
Help us to improve social justice and equality for women and girls
Our Supporters
Jess Phillips MP
Labour Party
MWNUK is courageous because of the uncompromising and fearless positions it sometimes takes when calling out injustice and inequality
Sadiq khan
London Mayor
I am proud to support and champion this fantastic organisation, which is informing policy and transforming lives.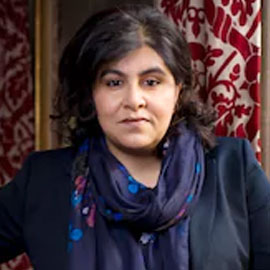 Baroness Sayeeda Warsi
Conservative Party
MWNUK's authenticity comes from knowledge of lived experiences of Muslim women and girls acquired through their helpline, research and members.
Naz Shah MP
Labour Party
They work tirelessly with passion and commitment to make a difference and improve outcomes for some of the most vulnerable women and girls in society.
Dr Shola Mos-Shogbamimiu
Lawyer, Political & Women's Rights Activist
There is no greater time than now for the voices, representation and power of Muslim women to be visible in the feminist movement and all walks of life. MWNUK is a vital force in delivering this much needed balance and representation.