MWNUK Written Evidence on Womens Health Strategy
Muslim Women's Network UK have submitted written evidence to the Department of Health and Social Care in Respect of the Women's Health Strategy.



In order to improve services and raise standards of care, it is essential that women's voices and experiences (particularly Muslim/BAME women) inform the development and delivery of health care services. Their experiences should be considered throughout the decision‐making structures and processes. Having lay member involvement (inclusion and engagement) is therefore essential. However, such involvement is largely inconsistent and not always done in a meaningful way, with patient representativeness also varying considerably. BAME women are often not involved in a meaningful manner and are regarded as 'hard to reach' to justify poor patient engagement. However, they can be reached if time and adequate resources are committed to such efforts, which would actually lead to faster and more streamlined referrals into the right care pathways that would ultimately result in improved outcomes and save lives. Better engagement of BAME women would also save costs of unplanned admissions, treatment of chronic health conditions and mental ill-health triggered by poor, long term physical health. Additionally, whilst we use the term BAME, fact of the matter is that local level data on ethnic breakdown is needed so that engagement issues can be identified and addressed; this is essential to tackle local health inequalities.
The full response can be downloaded above.
Help us to improve social justice and equality for women and girls
Our Supporters
Jess Phillips MP
Labour Party
MWNUK is courageous because of the uncompromising and fearless positions it sometimes takes when calling out injustice and inequality
Sadiq khan
London Mayor
I am proud to support and champion this fantastic organisation, which is informing policy and transforming lives.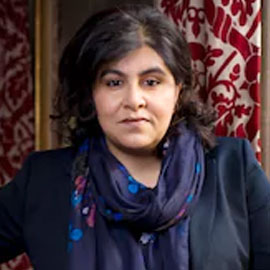 Baroness Sayeeda Warsi
Conservative Party
MWNUK's authenticity comes from knowledge of lived experiences of Muslim women and girls acquired through their helpline, research and members.
Naz Shah MP
Labour Party
They work tirelessly with passion and commitment to make a difference and improve outcomes for some of the most vulnerable women and girls in society.
Dr Shola Mos-Shogbamimiu
Lawyer, Political & Women's Rights Activist
There is no greater time than now for the voices, representation and power of Muslim women to be visible in the feminist movement and all walks of life. MWNUK is a vital force in delivering this much needed balance and representation.