Online Harms White Paper Consultation (Home Office / DCMS)
The Online Harms White Paper set out the government's plans for a world-leading package of online safety measures including establishing in law a new duty of care towards users to be overseen by an independent regulator and holding companies to account for tackling a comprehensive set of online harms, ranging from illegal activity and content to behaviours which are harmful but not necessarily illegal. Muslim Women's Network UK (MWNUK) responded to this government consultation by the Home Office and DCMS, which closed on 1 July 2019.


Some of our points included highlighting:

Disinformation and misinformation that results in abuse and maintaining of misogynistic and patriarchal agendas which are harmful
Merits of having a 'super complaints' process which also includes civil society organisations to be designated bodies
Lack of understanding by police as to what constitutes harassment and stalking
That although the White Paper mentions that cyber-bullying is higher for women, religious minorities, ethnic minorities, LGBT+ and disabled individuals, it lacks details about their experiences. As an example, we highlighted how revenge porn images online can also additionally result in honour based violence for BAME women and girls.
The full report can be downloaded above.
Help us to improve social justice and equality for women and girls
Our Supporters
Jess Phillips MP
Labour Party
MWNUK is courageous because of the uncompromising and fearless positions it sometimes takes when calling out injustice and inequality
Sadiq khan
London Mayor
I am proud to support and champion this fantastic organisation, which is informing policy and transforming lives.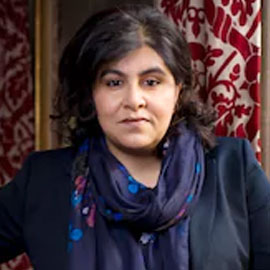 Baroness Sayeeda Warsi
Conservative Party
MWNUK's authenticity comes from knowledge of lived experiences of Muslim women and girls acquired through their helpline, research and members.
Naz Shah MP
Labour Party
They work tirelessly with passion and commitment to make a difference and improve outcomes for some of the most vulnerable women and girls in society.
Dr Shola Mos-Shogbamimiu
Lawyer, Political & Women's Rights Activist
There is no greater time than now for the voices, representation and power of Muslim women to be visible in the feminist movement and all walks of life. MWNUK is a vital force in delivering this much needed balance and representation.