Transforming the Response to Domestic Abuse (MoJ Consulation)
Domestic abuse impacts on victims' everyday lives and can have devastating consequences. The Ministry of Justice wants to find out how best to support all of those affected. The government consultation therefore sought views on what steps the government should take to raise awareness, support victims, and ensure perpetrators are stopped.



We took into consideration experiences of victims of abuse who contact our national Muslim Women's Network Helpline and responded to the consultation via an online questionnaire. However, we have summarised our responses in the report that can be downloaded above.





Some of our key recommendations included:
Including spiritual abuse as part of the domestic abuse / coercive control definition
Aggravating factors that should be used to increase sentences such as controlling victim though use of spiritual abuse, taking spouse / children abroad and abandoning there after taking away travel documents, threatening to abduct and take children abroad, deliberately not applying for indefinite leave to remain for women who arrive on spousal visas
Not limiting financial support for domestic abuse victims who have arrived in the UK on a spousal visa but extending criteria to all victims of domestic abuse who have an insecure immigration status

Domestic abuse awareness raising campaigns within BAME communities
Funding for speciliast services such as helplines and counselling services catering to the needs of BAME women

Help us to improve social justice and equality for women and girls
Our Supporters
Jess Phillips MP
Labour Party
MWNUK is courageous because of the uncompromising and fearless positions it sometimes takes when calling out injustice and inequality
Sadiq khan
London Mayor
I am proud to support and champion this fantastic organisation, which is informing policy and transforming lives.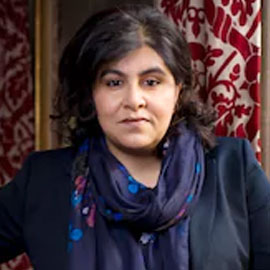 Baroness Sayeeda Warsi
Conservative Party
MWNUK's authenticity comes from knowledge of lived experiences of Muslim women and girls acquired through their helpline, research and members.
Naz Shah MP
Labour Party
They work tirelessly with passion and commitment to make a difference and improve outcomes for some of the most vulnerable women and girls in society.
Dr Shola Mos-Shogbamimiu
Lawyer, Political & Women's Rights Activist
There is no greater time than now for the voices, representation and power of Muslim women to be visible in the feminist movement and all walks of life. MWNUK is a vital force in delivering this much needed balance and representation.