Citizenship and Civic Engagement
The House of Lords Select Committee was been appointed to consider the issues of citizenship and civic engagement in the twenty-first century. Its aim was to understand the nature of the citizenship challenge for different parts of society; the aim being to identify new ways of building bridges within and between communities, and to support civic engagement. MWNUK responded to this consultation which can be downloaded here. We said that 'universal values' should be used instead of the term 'British values,' and British citizenship should not mean imposing restrictions on individual liberties and human rights. We also highlighted that barriers to active citizenship of British Muslims in public life included Islamophobia / discrimination and issues of misogyny and patriarchal attitudes from within the Muslim community and its institutions. These issues impacted on the ability of Muslim women to participate fully in public life. We provided two examples, one of mosques not allowing women on their governing boards and able and competent women blocked from becoming local councillors.

Help us to improve social justice and equality for women and girls
Our Supporters
Jess Phillips MP
Labour Party
MWNUK is courageous because of the uncompromising and fearless positions it sometimes takes when calling out injustice and inequality
Sadiq khan
London Mayor
I am proud to support and champion this fantastic organisation, which is informing policy and transforming lives.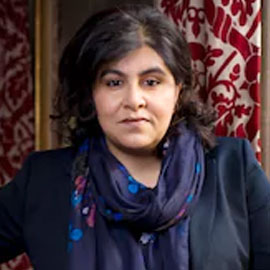 Baroness Sayeeda Warsi
Conservative Party
MWNUK's authenticity comes from knowledge of lived experiences of Muslim women and girls acquired through their helpline, research and members.
Naz Shah MP
Labour Party
They work tirelessly with passion and commitment to make a difference and improve outcomes for some of the most vulnerable women and girls in society.
Dr Shola Mos-Shogbamimiu
Lawyer, Political & Women's Rights Activist
There is no greater time than now for the voices, representation and power of Muslim women to be visible in the feminist movement and all walks of life. MWNUK is a vital force in delivering this much needed balance and representation.