MWN Helpline Evaluation 2016
Download PDF 123
February 2017
Muslim Women's Network UK set up a national faith and culturally sensitive service in January 2015. Year 1 evaluation for 2015 can be found here. In January 2016, the helpline hours increased from 3 mornings to 5 mornings a week. In August 2016, the service began to operate all day (10am to 4pm) Monday to Friday. Year 2 of the helpline has also been evaluated and can be downloaded here. Key findings included:

We received 1807 contacts (phone, email, texts etc) and there were 583 beneficiaries
We were contacted about 39 different issues
Top five issues included domestic violence, mental health, divorce, relationships and housing / homelessness
Other significant issues included honour based violence, forced marriage, immigration, and marriage
Most (76%) contacted helpline about themselves
Third sector and professionals (11%) and friends / family (11%) also called on behalf of others
68% of the callers also had a second underlying issue in addition to the primary reason for calling helpline
28% of the callers were experiencing three issues for which they needed help and advice
In 17% of calls the police were involved and in one third the helpline involved the police
In 8% of calls the social services were involved and in just over one third the helpline involved them
Although calls were received from over 60s and under 18s most callers were in their 20s, 30s and 40s
The ethnic background of the callers varied but those of Pakistani background were the largest group
The callers were from across the country with most from London (24%) and West Midlands (25%)
14 new indicators were introduced in 2016 e.g. 37% were better informed of support available

The report can be downloaded above.


Help us to improve social justice and equality for women and girls
Our Supporters
Jess Phillips MP
Labour Party
MWNUK is courageous because of the uncompromising and fearless positions it sometimes takes when calling out injustice and inequality
Sadiq khan
London Mayor
I am proud to support and champion this fantastic organisation, which is informing policy and transforming lives.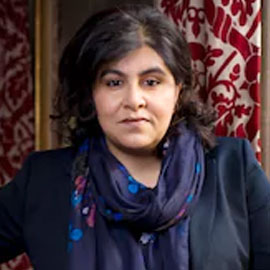 Baroness Sayeeda Warsi
Conservative Party
MWNUK's authenticity comes from knowledge of lived experiences of Muslim women and girls acquired through their helpline, research and members.
Naz Shah MP
Labour Party
They work tirelessly with passion and commitment to make a difference and improve outcomes for some of the most vulnerable women and girls in society.
Dr Shola Mos-Shogbamimiu
Lawyer, Political & Women's Rights Activist
There is no greater time than now for the voices, representation and power of Muslim women to be visible in the feminist movement and all walks of life. MWNUK is a vital force in delivering this much needed balance and representation.