Shariah Council Inquiry (Home Affairs Select Committee)
In June 2016, the Home Affairs Committee launched an inquiry into Sharia councils operating in the UK to examine how Sharia councils operate in practice, their work resolving family and divorce disputes and their relationship with the British legal system.

Chair Shaista Gohir OBE, gave evidence to the inquiry on 1st November 2016. We also submitted a formal written report, which can be downloaded above. The report covers:

Why Muslim women use Shariah Councils and the negative impact of abolishing them on Muslim women
The discrimination that takes place when Muslim women try to access shariah divorce services
The relationship between Shariah Council and the British legal system
The role the government can play to tackle the discrimination faced by Muslim women when accessing shariah divorce services
Refutations to misinformation promoted by some activists
Solutions to hold Shariah Councils accountable and strengthening of civil law

Help us to improve social justice and equality for women and girls
Our Supporters
Jess Phillips MP
Labour Party
MWNUK is courageous because of the uncompromising and fearless positions it sometimes takes when calling out injustice and inequality
Sadiq khan
London Mayor
I am proud to support and champion this fantastic organisation, which is informing policy and transforming lives.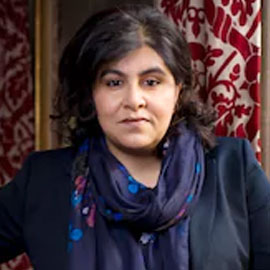 Baroness Sayeeda Warsi
Conservative Party
MWNUK's authenticity comes from knowledge of lived experiences of Muslim women and girls acquired through their helpline, research and members.
Naz Shah MP
Labour Party
They work tirelessly with passion and commitment to make a difference and improve outcomes for some of the most vulnerable women and girls in society.
Dr Shola Mos-Shogbamimiu
Lawyer, Political & Women's Rights Activist
There is no greater time than now for the voices, representation and power of Muslim women to be visible in the feminist movement and all walks of life. MWNUK is a vital force in delivering this much needed balance and representation.