Out of School Education Settings
On the 26th November 2015, the Government Department of Education launched a consultation about introducing a new system for registering and inspecting out-of-school education settings that provide intensive tuition, training or instruction to children. This applies to any institution providing tuition, training or instruction to children aged under 19 in England that is not a school, college, 16-19 academy or registered childcare provider. For example, it would apply to religious institutions, hiring out of premises or using homes to teach significant numbers of children for core curriculum subjects or religious studies. The deadline for the response was 11th January 2016.

This is the response of MWNUK to the government's call for evidence. Although this can apply to a range of settings, our response will focus on settings that teach Quran / religion within Muslim communities. Despite a few concerns, which we have highlighted, in general we are in agreement with the proposed measures. The government has a duty to safeguard and protect all children and not just those who are in schools and colleges. Children receiving tuition in other settings outside school have been over looked for too long. The absence of checks and balances of such settings poses safeguarding risks. The full report can be downloaded above.

Help us to improve social justice and equality for women and girls
Our Supporters
Jess Phillips MP
Labour Party
MWNUK is courageous because of the uncompromising and fearless positions it sometimes takes when calling out injustice and inequality
Sadiq khan
London Mayor
I am proud to support and champion this fantastic organisation, which is informing policy and transforming lives.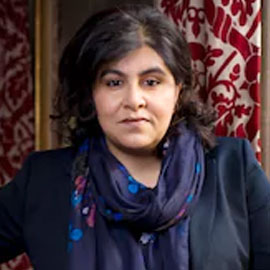 Baroness Sayeeda Warsi
Conservative Party
MWNUK's authenticity comes from knowledge of lived experiences of Muslim women and girls acquired through their helpline, research and members.
Naz Shah MP
Labour Party
They work tirelessly with passion and commitment to make a difference and improve outcomes for some of the most vulnerable women and girls in society.
Dr Shola Mos-Shogbamimiu
Lawyer, Political & Women's Rights Activist
There is no greater time than now for the voices, representation and power of Muslim women to be visible in the feminist movement and all walks of life. MWNUK is a vital force in delivering this much needed balance and representation.