CPS Consultaation - Prosecuting Domestic Viiolence Cases
July 2014

The Crown Prosecution Service is currently consulting on Draft Guidelines for the Prosecution of Domestic Violence Cases. These guidelines will provide assistance to decision makers and professionals during prosecutions of domestic violence. The deadline for responses was 9th July 2014. Muslim Women's Network UK responded to this consultation so that needs of Muslim women are considered in the new guidelines. We highlighted a number of issues that included: women whose immigration status is settled but are subjected to violence being particularly vulnerable and even being revictimised by those who should be helping them; men whose immigration status has not been settled and subject their spouses to violence including pressuring them not to report abuse until it is settled; victim being abused by several members of the family; mental health issues due to abuse; witnesses within family; sensitivity around prosecuting barristers being friendly with defence barristers; spirit possession etc. Our full response can be downloaded above.
Help us to improve social justice and equality for women and girls
Our Supporters
Jess Phillips MP
Labour Party
MWNUK is courageous because of the uncompromising and fearless positions it sometimes takes when calling out injustice and inequality
Sadiq khan
London Mayor
I am proud to support and champion this fantastic organisation, which is informing policy and transforming lives.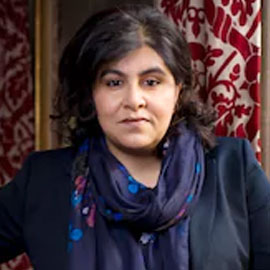 Baroness Sayeeda Warsi
Conservative Party
MWNUK's authenticity comes from knowledge of lived experiences of Muslim women and girls acquired through their helpline, research and members.
Naz Shah MP
Labour Party
They work tirelessly with passion and commitment to make a difference and improve outcomes for some of the most vulnerable women and girls in society.
Dr Shola Mos-Shogbamimiu
Lawyer, Political & Women's Rights Activist
There is no greater time than now for the voices, representation and power of Muslim women to be visible in the feminist movement and all walks of life. MWNUK is a vital force in delivering this much needed balance and representation.