PATRON
Janie Frampton (PATRON)
Janie has been invited by the board of trustees to become Muslim Women's Network UK first Patron to help us broaden our work to include sports and well being. Given Janie's knowledge, areas of specialism and experience of working with Muslim girls and women, she will be helping us to use sports as a conduit to address current issues faced by them, give them confidence and empower them so they feel valued to improve all aspects of their lives.
Janie has been an active football referee for 26 years, and became the second women to have operated within men's professional football. She has officiated in many International matches, including the Women's Champions League and World Cup Qualifiers, as well as the highest women's games domestically.
As a qualified UEFA B coach she spent several years in America coaching football, and was also involved domestically in The FA Women's Centre of Excellence coaching and development initiative before being appointed by The FA as one of 10 Regional Referee Managers in 2001. Janie was promoted to The FA National Referee Manager for Education and Training in 2007. She has a vast experience in referee development both domestically and internationally having delivered education to grassroots through to elite referees on every continent.
As one of only a handful of female FIFA Referee Instructors in the world, Janie has been involved in many tournaments and workshops, including the development and selection of the female referees for the FIFA Women's World Cup in China in 2007 the FIFA Women's U20 World Cup in Chile in 2008 where she was appointed as technical analyst, and the FIFA Women's World Cup in Germany 2011 where she was appointed as an observer.
Janie is also the Owner and Managing Director of Sports Officials Consultancy, a development partner of Sport England, and an umbrella organisation which supports the education and development of sports officials across all sports.
Janie has been working with Muslim Women from Asian communities to engage them to take part in sport in a positive, safe, enjoyable environment without compromising their culture. To support this Janie was invited to be part of a working group with the Asian Football Development Project in Jordan and Chaired by Prince Ai Bin Al Hussain to lobby FIFA to overturn the ban on 'The wearing of the Hijab in Football' the group were successful and the ban was lifted by FIFA in June 2012. Continuing her involvement in the development of Muslim women, Janie has undertaken several projects involving premier league football clubs and the PFA where we have delivered a range of leadership programmes to empower young Muslim girls and women to build their confidence and self esteem.
In 2017, Janie plans to take a project to Iran later in 2017 to empower young girls and women using football as the conduit.
Help us to improve social justice and equality for women and girls
Our Supporters
Jess Phillips MP
Labour Party
MWNUK is courageous because of the uncompromising and fearless positions it sometimes takes when calling out injustice and inequality
Sadiq khan
London Mayor
I am proud to support and champion this fantastic organisation, which is informing policy and transforming lives.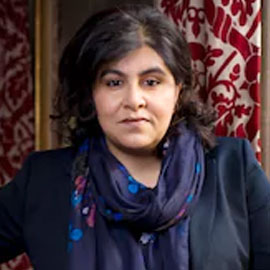 Baroness Sayeeda Warsi
Conservative Party
MWNUK's authenticity comes from knowledge of lived experiences of Muslim women and girls acquired through their helpline, research and members.
Naz Shah MP
Labour Party
They work tirelessly with passion and commitment to make a difference and improve outcomes for some of the most vulnerable women and girls in society.
Dr Shola Mos-Shogbamimiu
Lawyer, Political & Women's Rights Activist
There is no greater time than now for the voices, representation and power of Muslim women to be visible in the feminist movement and all walks of life. MWNUK is a vital force in delivering this much needed balance and representation.