Another attack on the rights of Muslim girls in France
Download PDF
MEDIA STATEMENT
06 SEP 2023
Another attack on the rights of Muslim girls in France
Muslim Women's Network UK (MWNUK) is deeply alarmed to hear that France has banned the abaya (a long loose-fitting dress like garment); it has been widely reported that dozens of French Muslim girls were sent home for the wearing of the abaya at French state schools. The reasons put forward by Education Minister Gabriel Attal is that one must not be able to identify the religion of students in the classroom because it is in line with the nations ardent notion of secularism often referred to as Laicite. Unfortunately, the minister seems to have failed to grasp that the abaya is not an Islamic garment nor mandated religiously for Muslim girls, the abaya popular across the MENA region and Europe often worn by Muslim women and girls for a multitude of reasons including comfort and fashion (some have even been designed by famous fashion houses).
This is not the first time France has prescribed targeted anti-religious laws in the name of "secularism"; in 2004 there was a ban on religious symbols in state schools (such as the hijab). The only belief that can be upheld in France is government approved secularism, which polices what girls can and cannot wear to school. It is also concerning what is defined as an abaya or not. Many girls from all backgrounds wear loose long dresses. Will they be asked to leave classroom? It is likely that Muslim boys who often wear the Thawb (long ankle length gown worn by men across the MENA region & Europe) will also be included in this ban. France has a heavily racialised view of Muslims and have Islamophobic attitudes which have informed such a regressive policy.
Baroness Shaista Gohir OBE, CEO of MWNUK explained: "Whether we are discussing the rights of women in Iran or those of Muslim girls in France, we need to address and condemn the constant threats on women's rights and advocate for women to have full autonomy over their bodies wherever they are in the world. What is happening is France could set a precedent for the rest of Europe. Far right anti-Muslim groups could be encouraged to target Muslim communities which would put visibly Muslim women and girls at risk of serious harm including in the UK".
Two in five[1] (42%) of religious hate crime offences are targeted against Muslims. Muslim women are at higher increased risk of hate crime because their Muslim identity is more visible. For the last decade hate crimes have increased every year. Therefore, the government needs to update its hate crime strategy and take robust action which must include addressing the impact of social and political changes abroad on Muslims in the UK.
Additional Information
· Media enquiries can be directed to: contact@mwnuk.co.uk or 0121 2369000
· Muslim Women's Network UK is a national charity and more information can be found on its website: https://www.mwnuk.co.uk
· MWN Helpline (national specialist faith and culturally sensitive helpline) can be contacted on: TEL: 0800 999 5786 / Email: info@mwnhelpline.co.uk / Text: 07415 206 936 and further Information can be found here: https://www.mwnhelpline.co.uk/index.php
Help us to improve social justice and equality for women and girls
Our Supporters
Jess Phillips MP
Labour Party
MWNUK is courageous because of the uncompromising and fearless positions it sometimes takes when calling out injustice and inequality
Sadiq khan
London Mayor
I am proud to support and champion this fantastic organisation, which is informing policy and transforming lives.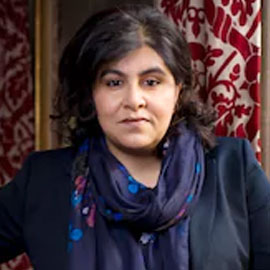 Baroness Sayeeda Warsi
Conservative Party
MWNUK's authenticity comes from knowledge of lived experiences of Muslim women and girls acquired through their helpline, research and members.
Naz Shah MP
Labour Party
They work tirelessly with passion and commitment to make a difference and improve outcomes for some of the most vulnerable women and girls in society.
Dr Shola Mos-Shogbamimiu
Lawyer, Political & Women's Rights Activist
There is no greater time than now for the voices, representation and power of Muslim women to be visible in the feminist movement and all walks of life. MWNUK is a vital force in delivering this much needed balance and representation.