Fawziyah Javed – Guilty verdict of her murder welcomed but sentences for femicide need toughening
Download PDF
MEDIA STATEMENT
6th April 2023
Fawziyah Javed – Guilty verdict of her murder welcomed but sentences for femicide need toughening
Muslim Women's Network UK welcomes the court decision which found Kashif Anwar guilty of murdering his wife Fawziyah Javed in September 2021. In the lead up to her murder the trial heard how Mr. Anwar abused and controlled Fawziyah. Perpetrators such as Mr. Anwar should not only be given maximum sentences but should also be required to serve them fully.
Fawziyah's family has been left with the life-long devastating impact of her murder and any punishment for Mr. Anwar will not bring closure or provide full justice. However, to improve justice for victims like Fawziyah and their families, sentencing guidelines need reforming so that sentences are higher with longer minimum terms for femicide. At present sentences are not sufficiently tough enough for intimate partner abuse and femicide.
Fawziyah who was 31 years old and a successful lawyer and a mother to be, had her whole life ahead of her. During her short life she touched the lives of many people, volunteering for many charities including for Muslim Women's Network UK, mentoring children, feeding the homeless and fund raising for humanitarian causes. Our thoughts are with Fawziyah's family, especially her mother, who is a member of Muslim Women's Network UK. We pray that she has the strength to endure the great pain of losing her only child.
Yasmin Javed (Fawziyah's mother) said: "I have no words to truly describe the depths of our pain and grief. It is immeasurable and unimaginable. To say that we are going through the most torturous and devastating time does not even come close. Since that fateful evening our lives and our world has been destroyed. Fawziyah has left a humongous void in our lives. The spark has gone out of our lives forever. We have been left in depths of darkness to suffer this life-long loss. We miss and think about Fawziyah every second of every day. We are not living anymore, but just existing."
This case highlights the importance of friends, family, colleagues and the public to report abuse when it is witnessed or suspected. Concerns about Fawziyah's wellbeing had already been reported to the police which provided crucial evidence during the trial. Fawziyah had planned to leave her abusive husband with the support of family, friends and colleagues, but Mr. Anwar took her life and that of her unborn child before she was able to escape.
Baroness Shaista Gohir OBE, CEO of Muslim Women's Network UK said: Greater awareness is needed of not ignoring abuse and reaching out to those affected by signposting or providing them with the necessary support and even reporting concerns to the police. Although domestic abuse affects women (and men) in all communities and from all socio-economic backgrounds, targeted awareness campaigns are needed in Black, Asian and minority ethnic communities and more support provided to overcome the barriers to asking for help, reporting and leaving abusive situations."
Through its initiative, Say Her Name, Muslim Women's Network UK publishes names of the minority ethnic women that have been murdered by a male perpetrator. When the statistics are compared to the 'Counting Dead Women' list compiled by activist Karen Ingala Smith, Black, Asian and minority ethnic women are disproportionately overrepresented in some years. For example, last year 28 (26%) of the 107 victims were minority ethnic, even though these communities make up 18% of the population (according to the 2021 Census) and in 2021, they made up 19% of the victims.
If you or anyone you know are affected by any form of abuse, please contact the Muslim Women's Network Helpline on 0800 999 5786 / info@mwnhelpline.co.uk / 07415 206936 (text) / www.mwnhelpline.co.uk (webchat).
Further information
· The vigil in September 2022 that was held in honour of Ms. Javed to mark the one year anniversary of her death can be found here.
· Media enquiries can be directed to: contact@mwnuk.co.uk / 0121 2369000
· Muslim Women's Network UK is a national charity and more information can be found on its website: https://www.mwnuk.co.uk
Help us to improve social justice and equality for women and girls
Our Supporters
Jess Phillips MP
Labour Party
MWNUK is courageous because of the uncompromising and fearless positions it sometimes takes when calling out injustice and inequality
Sadiq khan
London Mayor
I am proud to support and champion this fantastic organisation, which is informing policy and transforming lives.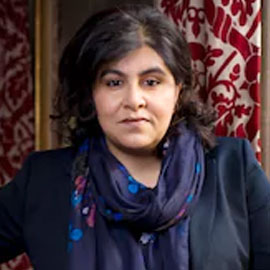 Baroness Sayeeda Warsi
Conservative Party
MWNUK's authenticity comes from knowledge of lived experiences of Muslim women and girls acquired through their helpline, research and members.
Naz Shah MP
Labour Party
They work tirelessly with passion and commitment to make a difference and improve outcomes for some of the most vulnerable women and girls in society.
Dr Shola Mos-Shogbamimiu
Lawyer, Political & Women's Rights Activist
There is no greater time than now for the voices, representation and power of Muslim women to be visible in the feminist movement and all walks of life. MWNUK is a vital force in delivering this much needed balance and representation.