Shamima Begums citizenship should not have been removed
Download PDF
22 Feb 2023
MEDIA STATEMENT

Shamima Begum's citizenship should not have been removed
Muslim Women's Network UK (MWNUK) are alarmed to hear that Shamima Begum has lost her appeal against the decision to remove her British citizenship. Ms Begum is a British citizen who was groomed when she was a child at the age of 15 by ISIS propaganda. Ms Begum is a British born Muslim woman and should be allowed to return to her home country and face any criminal trial and questioning on British soil. Her citizenship should have never been revoked. It is imperative for our thriving democracy to ensure we do not diminish our responsibilities to British citizens without giving them a fair trial and it should be considered that a British citizen could and was groomed in the UK. Those complexities therefore have to be understood and placed into context when decisions are made about revoking citizenship. Sadly, heavily racialised tropes and Islamophobic sentiments influenced public discourse on her specific case.
Nazmin Akthar, Co-Chair of MWNUK explained: "Whether she is a criminal or a victim is irrelevant to the question of whether she should be granted entry into the UK. Shamima Begum was born and brought up in the UK and given Bangladesh's clear statement that she is not a Bangladeshi citizen, she does not have citizenship rights to any country other than the UK. It is astounding that a country feels it can unilaterally decide that an individual has right to citizenship in another country and beyond comprehension it then feels the other country actually has any obligation to agree to such a view. The ability to strip an individual of their citizenship (particularly in circumstances where their dual nationality is in doubt) has now created communities of second-class citizens. In addition to this, it sends a message of a lack of sense of responsibility to the wider world where a 'solution' to criminal behaviour is to make it someone else's 'problem'."
Furthermore, in the case of Ms Begum there is much to be learned and to explore in regards what she knows and what she has witnessed, this information is key to understanding how young girls fall victim to grooming and how to combat this extremism that is hijacking ordinary Muslim communities and young people across the globe.
Additional Information
•
Media enquiries can be directed to: contact@mwnuk.co.uk
•
Muslim Women's Network UK is a national charity and more information can be found on its website: https://www.mwnuk.co.uk
Help us to improve social justice and equality for women and girls
Our Supporters
Jess Phillips MP
Labour Party
MWNUK is courageous because of the uncompromising and fearless positions it sometimes takes when calling out injustice and inequality
Sadiq khan
London Mayor
I am proud to support and champion this fantastic organisation, which is informing policy and transforming lives.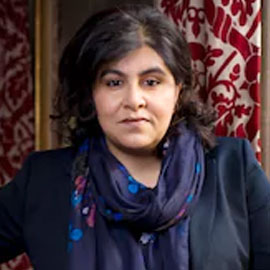 Baroness Sayeeda Warsi
Conservative Party
MWNUK's authenticity comes from knowledge of lived experiences of Muslim women and girls acquired through their helpline, research and members.
Naz Shah MP
Labour Party
They work tirelessly with passion and commitment to make a difference and improve outcomes for some of the most vulnerable women and girls in society.
Dr Shola Mos-Shogbamimiu
Lawyer, Political & Women's Rights Activist
There is no greater time than now for the voices, representation and power of Muslim women to be visible in the feminist movement and all walks of life. MWNUK is a vital force in delivering this much needed balance and representation.