Allegations of discrimination experienced by Nus Ghani MP on grounds of her Muslim faith
Download PDF
23 January 2022
Media Statement
Urgent investigation needed on allegations of discrimination experienced by Nus Ghani MP on grounds of her Muslim faith
Muslim Women's Network UK (MWNUK) is appalled to hear Conservative MP for Wealden, Nus Ghani's account of how she has been treated by the Conservative Party. Women have long endured sexism and misogyny in politics which accounts for their under-representation in this area of public life. Historically female politicians have been challenged on their integrity, loyalty and standards of work in ways that male politicians have not. Ms. Ghani's account reminds us of the additional barriers that ethnic minority women and especially Muslim women face because of their race and faith. Using threats to one's career as leverage to prevent discrimination complaints from being pursued, then questioning the validity of allegations because they have not been pursued through formal channels, is not only disingenuous but also a form of bullying. Muslim women are already one of the most commonly targeted groups in hate crimes. Whether as ordinary members of the public or as high-profile public figures, they should not have to get used to experiencing anti-Muslim attitudes in their daily life. They should also not have to consider such attitudes as a part of normal life in Britain today.
We are also dismayed to hear that a culture of shame, through ostracization by colleagues, is also a reality for politicians. Shame and ostracization are already methods used to control and abuse women and girls at home and in the workplace and it is disheartening to hear that such a culture exists even in places where decisions are to be made about the lives of these very victims.
Co-Chair, Dr Iram Sattar MBE, said: "Rather than viewing Nus Ghani as enriching British politics, it appears that some MPs have considered her as an outsider because of her identity. It is shocking that her 'Muslimness' was apparently regarded as problematic. When Muslim women join political parties, they should not have to abandon their Muslim identity. If this is what is being said about Ms. Ghani, who does not wear a headscarf, it suggests that hijab wearing female members of the party are even more likely to face discrimination."
MWNUK is also concerned about the safety of Ms. Ghani. It is highly likely that she will now be subjected to abuse (including online abuse) from some sections of the public and party members. An Amnesty International 2017 study revealed that Black and Asian women politicians face more abuse than others. We urge that measures are put into place to protect her and a fair and transparent investigation launched swiftly. This should include identifying parliamentarians and / or advisors holding negative attitudes towards Muslims, holding them accountable and obliging them to offer an apology to Ms. Ghani.
MWNUK is a charitable organisation and does not support, nor is affiliated to any political party. However, promoting equality and empowerment of Muslim women and girls is a part of our charitable objectives which we believe requires us to challenge politicians, political candidates, public servants and any other body or organisation when it is considered necessary. We are therefore highly concerned about this government's present attitudes towards discrimination and urge that strong steps are taken to address our concerns. An ethnically diverse cabinet may give the impression of inclusion, but Ms. Ghani's experience suggests a different story. Furthermore, denying the existence of structural racism (as reflected in the 2021 report of the Commission on Race and Ethnic Disparities), and refusing to follow up on Professor Swaran Singh's recommendations arising from his investigation into the Conservative Party's handling of discrimination complaints (most of which related to anti-Muslim prejudice), indicates that the Conservative Party continues to uphold systems that discriminate.
Whilst we appreciate the allegations need to be investigated, we must nevertheless commend Ms Ghani for the strength she has shown in speaking out publicly about being re-shuffled out of her ministerial post in 2020 because of her Muslim faith. Seeing public figures raise their voices about their experiences can have the added benefit of encouraging others to speak up about their own experiences. We, therefore commend Ms. Ghani and hope it acts as a catalyst for change across all political parties (and society generally) of both attitudes and processes.
Dr. Iram Sattar MBE added: "I am also very saddened that Ms. Ghani even considered leaving politics. Her experiences may cause some ethnic minority women to reconsider whether they want to stand as candidates in local council and general elections in the first place which is very detrimental for those of us striving for equality and social justice. It is a reminder that women should not just be encouraged to get into politics (or indeed any other workplace) but also be supported to stay there once they are successful. This of course applies to all political parties. In 2016, MWNUK highlighted the discrimination (including bullying and harassment) faced by Muslim women within the Labour party in local elections from male Labour party members within their own communities. At the time we had strongly urged for a cross-party investigation into our concerns and it is sad that this has remained unresolved."
MWNUK is currently involved in the Equal Power project to encourage more women, in all of their diversities, to enter politics at every level. In 2022 MWNUK is planning a study of Muslim women councillors and candidates across all parties to assess the barriers which continue to exist for women in their respective journeys into political office. It is important that women's voice in politics is increased so that women are equally represented and that their rights and interests are protected.
Notes
1) For further comments, send an email to: contact@mwnuk.co.uk
2) Other partners involved in the three-year Equal Power project, funded by Comic Relief, include Elect Her, Centenary Action Group, Citizens UK, 50:50 Parliament, Glitch and Fawcett. To find out more about the Equal Power project https://www.fawcettsociety.org.uk/equal-power
3) The Muslim Women's Network UK (www.mwnuk.co.uk), which operates the MWN Helpline (www.mwnhelpline.co.uk) and the www.mwnhub.com is a national award winning charity based in Birmingham and works to advance equality and social justice for Muslim women and girls.
4) Muslim Women's Network UK acts as the Secretariat for the APPG on Muslim women, for which MP Nus Ghani is one of the officers and acts as Vice-Chair.
Help us to improve social justice and equality for women and girls
Our Supporters
Jess Phillips MP
Labour Party
MWNUK is courageous because of the uncompromising and fearless positions it sometimes takes when calling out injustice and inequality
Sadiq khan
London Mayor
I am proud to support and champion this fantastic organisation, which is informing policy and transforming lives.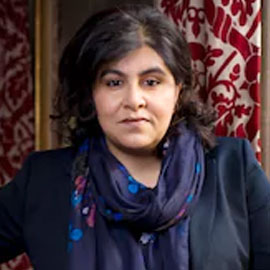 Baroness Sayeeda Warsi
Conservative Party
MWNUK's authenticity comes from knowledge of lived experiences of Muslim women and girls acquired through their helpline, research and members.
Naz Shah MP
Labour Party
They work tirelessly with passion and commitment to make a difference and improve outcomes for some of the most vulnerable women and girls in society.
Dr Shola Mos-Shogbamimiu
Lawyer, Political & Women's Rights Activist
There is no greater time than now for the voices, representation and power of Muslim women to be visible in the feminist movement and all walks of life. MWNUK is a vital force in delivering this much needed balance and representation.