MWNUK celebrates 15 years of advancing womens rights and connecting voices for change
29 October 2018




MEDIA STATEMENT




Muslim Women's Network UK celebrate 15 years of advancing women's rights and connecting voices for change





2018 sees MWNUK celebrating three very key milestones. It has been 15 years since its first formal meeting on 6th May 2003 with the then Women's Minister Patricia Hewitt, which confirmed its existence and the administrative support it would receive from the Women's National Commission. Having made the decision that existing independently from government would allow us to better advocate for the rights of Muslim women in UK, it has also been 10 years since MWNUK was formally registered as a Community Interest Company. And finally, this December will see MWNUK's 5 year anniversary as a registered charity.





We are very proud of the achievements we have made in the last 15 years in advancing the rights of Muslim women and connecting voices for change. We are in gratitude to the original founding members, in particular our Honorary President Baroness Haleh Afshar and the late Cassandra Balchin, who had the foresight to realise that there was a paramount need for a group which recognised and brought attention to the voices of Muslim women in the UK.




Chair Shaista Gohir said:


"In the last 15 years we have grown from a small group of women meeting with and speaking to ministers and government officials to a widely-recognised, national organisation that is pioneering, progressive and forward-thinking. In addition to our advocacy work with the government, we conduct research, produce resources and reports, deliver campaigns, run training workshops, present educational and awareness-raising events, and also run the national MWN Helpline which has proven to be a lifeline for many of our service users. As an outward looking organisation, we have partnered with a diverse range of organisations including leading feminist organisations, such as the Fawcett Society, Care International and the Women's Centenary Group, schools, faith leaders and community activists as part of our campaigning and awareness-raising activities. We have also flourished and evolved internally. I remember a time when we only had one member of staff and now we have 12!"




Vice-Chair Nazmin Akthar-Sheikh added:


"I was drawn to MWNUK because of its use of Islamic feminism as a tool to empower Muslim women and I am very proud of the fact that in the last 15 years we have stayed true to our mission of effecting change using the Quran's spirit of equality and justice. As a result MWNUK's work has been crucial to the advancement of Muslim women's rights and the wider feminist movement both within the UK and internationally. I have no doubt that Islamic feminism will remain at the heart of our work over the next 15 years and we will continue the momentum towards achieving a society where Muslim women are able to exercise their rights and choices freely and without any barriers. "




Whilst we celebrate our journey so far, we are also very aware that our work is far from over and much more needs to be done. A review of our MWN Helpline cases highlight the range and complexity of issues that continue to affect Muslim women. Domestic abuse, divorce and relationships, housing and homelessness issues and mental health matters are just some of the top issues dealt with by the Helpline.





Executive Director Faeeza Vaid stated:


"It is of course saddening that despite the progresses made, there are still women who are facing abuse, being discriminated against and being denied their rights. Five years ago we published our report 'Unheard Voices', which highlighted the sexual exploitation of young Asian women and girls, in a bid to raise awareness of the issues, better inform key stakeholders and ensure support is available for vulnerable victims of exploitation. Yet this form of abuse continues to be prevalent across the country. However hearing of their ordeal also strengthens our resolve to keep going and not stop until we have truly achieved an equal and just society. In order to do so, we will continue to collaborate with the different sectors, including the government, local authorities, schools, faith-based and secular organisations, and of course those whose lived experiences are the reason we exist: Muslim women".





MWNUK reaffirms its commitment to fighting all forms of abuse and discriminatory practices which continue to exist today.





As part of our celebrations we will soon be launching a new digital portal to help Muslim women and those who have an interest in issues related to them, connect with one another and take steps collectively to effect change.




We would like to send a heartfelt thank you to all our funders, partners, members and supporters, including all our past and present staff, board members and volunteers, whose commitment, support and belief in our vision has allowed us to reach this 15 year milestone. We look forward to continue working with you and sharing the next stage of our journey.




Ends




For further information contact:
Shaista Gohir OBE (Chair of MWNUK)


0121 236 9000 / 07802 225989 / contact@mwnuk.co.uk / contact@shaistagohir.com




Nazmin Akthar-Sheikh (Vice Chair of MWNUK)


0121 236 9000 / 07972 542475




Muslim Women's Network UK (www.mwnuk.co.uk) is the national leading Muslim women's charity working to improve the social justice and equality for Muslim women and girls.



Help us to improve social justice and equality for women and girls
Our Supporters
Jess Phillips MP
Labour Party
MWNUK is courageous because of the uncompromising and fearless positions it sometimes takes when calling out injustice and inequality
Sadiq khan
London Mayor
I am proud to support and champion this fantastic organisation, which is informing policy and transforming lives.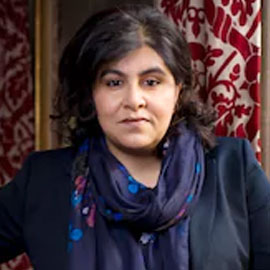 Baroness Sayeeda Warsi
Conservative Party
MWNUK's authenticity comes from knowledge of lived experiences of Muslim women and girls acquired through their helpline, research and members.
Naz Shah MP
Labour Party
They work tirelessly with passion and commitment to make a difference and improve outcomes for some of the most vulnerable women and girls in society.
Dr Shola Mos-Shogbamimiu
Lawyer, Political & Women's Rights Activist
There is no greater time than now for the voices, representation and power of Muslim women to be visible in the feminist movement and all walks of life. MWNUK is a vital force in delivering this much needed balance and representation.