BORIS JOHNSON : His Veil Comments are irresponsible and Incite Hatred
Download PDF

8th August 2018




MEDIA STATEMENT


BORIS JOHNSON - His 'Veil Comments' are irresponsible and Incite Hatred

Boris Johnson's comments are irresponsible and will incite hatred and put Muslim women who veil in danger. Instead of challenging similar far right rhetoric, Boris Johnson is pandering to their agenda by deliberately adopting xenophobic discourses. He knows the face veil has become an emotive issue in Europe and is using this issue to get media attention and publicity.

It is worrying that some politicians continue to give Muslim women's dress disproportionate attention given that of the 1.4 million Muslim women and girls in the UK, only a tiny minority of Muslim women (potentially from a few hundred to even a few thousand) wear the face veil. It is also interesting to note that in this widespread campaign against the face veil across Europe, the leading voices are those of men. They are using women's dress as a political tool to promote fear and hatred.

MWNUK Chair Shaista Gohir said: "The right to freedom of speech and therefore criticise the veil can be done in a respectful way with intellectual arguments without comparing women who veil with letterboxes and bank robbers. Although he does not support a veil ban, by using language that dehumanises Muslim women and compares them to criminals puts them in danger of physical and verbal abuse. We must support women, including those who choose to cover their face, to make independent choices about how they dress whatever that may be."

We welcome Prime Minister Theresa May's and Brandon Lewis's statements on the issue and call on Boris Johnson to apologise. If he does not then he should face disciplinary action because as one Muslim Women's Network member, who called today, said: 'Such comments have real consequences for real women in the real world.' If he is not reprimanded then it legitimises incitement of hatred against Muslim women. This is yet another example of Islamophobic language emerging from senior members of the Conservative Party.

Ends

For further information contact:
Shaista Gohir OBE (Chair of MWNUK)
0121 236 9000 / 07802 225989 / contact@mwnuk.co.uk / contact@shaistagohir.com

Faeeza Vaid (ED of MWNUK)
0121 236 9000 / 07535 703567 / contact@mwnuk.co.uk / faeeza@mwnuk.co.uk

Muslim Women's Network UK (www.mwnuk.co.uk) is the national leading Muslim women's charity working to improve the social justice and equality for Muslim women and girls.


Help us to improve social justice and equality for women and girls
Our Supporters
Jess Phillips MP
Labour Party
MWNUK is courageous because of the uncompromising and fearless positions it sometimes takes when calling out injustice and inequality
Sadiq khan
London Mayor
I am proud to support and champion this fantastic organisation, which is informing policy and transforming lives.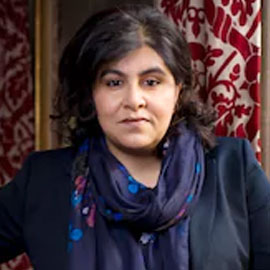 Baroness Sayeeda Warsi
Conservative Party
MWNUK's authenticity comes from knowledge of lived experiences of Muslim women and girls acquired through their helpline, research and members.
Naz Shah MP
Labour Party
They work tirelessly with passion and commitment to make a difference and improve outcomes for some of the most vulnerable women and girls in society.
Dr Shola Mos-Shogbamimiu
Lawyer, Political & Women's Rights Activist
There is no greater time than now for the voices, representation and power of Muslim women to be visible in the feminist movement and all walks of life. MWNUK is a vital force in delivering this much needed balance and representation.