Manchester - An attack on the most vulnerable and on fundamental human values
Download PDF 23rd May 2017

MEDIA STATEMENT

Manchester - An attack on the most vulnerable and on fundamental human values

We at Muslim Women's Network UK (MWNUK) are deeply saddened, shocked and angry about the attack that took place at the Manchester Arena last night, Monday 22nd May 2017. Senseless violence was meted out to children and young people from diverse backgrounds who were enjoying a night out with family and friends. This devastating attack has now shattered many lives, leaving (at the time of writing) 22 dead and over 50 injured.

We send our heartfelt condolences to the families and friends of the victims and especially those who have lost children. Muslim women stand in solidarity with you - this could have happened to any one of us; it was an attack on all of our children. In the aftermath of this most profound bereavement, MWNUK reiterates and confirms its commitment to working with government, opposition parties and other organisations to challenge extremism and to keep us safe.

MWNUK Chair, Shaista Gohir, said: "This is the most deadly attack in the UK since the London bombings of 2005; another indiscriminate and deliberate attack - this time targeting the most vulnerable in our society. We must continue not only to be vigilant but to also actively work together to challenge extremism."

She added: "To those who criticise counter extremism work while offering no solutions, we say clearly - that doing nothing is not an option. We can do both - seek improvements to the 'Prevent' programme so that it does not target innocent people and also to work together to challenge those who promote hatred and intolerance. Those who do not want to help find solutions must stop trying to deliberately disrupt and demonise those actively working to defeat extremists and terrorists; otherwise the cost will be the loss of more innocent lives."

MWNUK applauds the people of Manchester who in the midst of carnage came together in solidarity to support each other, from the emergency services that worked through the night, to the taxi drivers who took people home without charge, to those simply offering cups of tea. Their efforts are a positive example of how we #StandTogether and defy those who seek to divide us.

MWNUK urges anyone who has any information about those who seek to harm us to contact the police. The Muslim Women's Network Helpline can also be contacted on 0800 999 5786 to talk about any concerns.

Ends

For further information contact:

Shaista Gohir OBE (Chair of MWNUK)
0121 236 9000 / 07802 225989 / contact@mwnuk.co.uk / contact@shaistagohir.com

Faeeza Vaid (ED of MWNUK)
0121 236 9000 / 07535 703567 / contact@mwnuk.co.uk / faeeza@mwnuk.co.uk

Muslim Women's Network UK (www.mwnuk.co.uk) is the national leading Muslim women's charity working to improve the social justice and equality for Muslim women and girls.

Help us to improve social justice and equality for women and girls
Our Supporters
Jess Phillips MP
Labour Party
MWNUK is courageous because of the uncompromising and fearless positions it sometimes takes when calling out injustice and inequality
Sadiq khan
London Mayor
I am proud to support and champion this fantastic organisation, which is informing policy and transforming lives.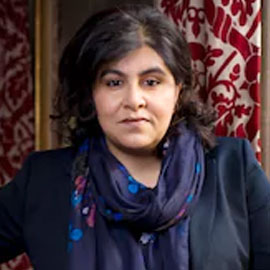 Baroness Sayeeda Warsi
Conservative Party
MWNUK's authenticity comes from knowledge of lived experiences of Muslim women and girls acquired through their helpline, research and members.
Naz Shah MP
Labour Party
They work tirelessly with passion and commitment to make a difference and improve outcomes for some of the most vulnerable women and girls in society.
Dr Shola Mos-Shogbamimiu
Lawyer, Political & Women's Rights Activist
There is no greater time than now for the voices, representation and power of Muslim women to be visible in the feminist movement and all walks of life. MWNUK is a vital force in delivering this much needed balance and representation.