Women of Strength, Women of Compassion, Women of Influence - #AndMuslim
Download PDF
12 October 2016
Press Statement
Women of Strength, Women of Compassion, Women of Influence
-
#AndMuslim
As part of the national Hate Crime Awareness Week, the Muslim Women's Network UK (MWNUK) launched a digital role model campaign called '#AndMuslim', at an event on the 11 October 2016 in Portcullis House, London. The campaign aims to challenge the negative stereotypes of Muslim women who are often portrayed as victims, oppressed, or linked to extremism. Instead, it promotes the diversity of the female Muslim community in Britain, and celebrates their successes, achievements and contributions.
Supported by the government's wider 'Building A Stronger Britain Together' campaign, the series of short videos available on our YouTube channel, demonstrate that many Muslim women are diverse and active British citizens. For example; one of the women featured is Dr. Iram Sattar who is a GP, who plays football and is a massive Liverpool FC fan. Another, Jahanara Salihi, is a civil servant with a passion for motorcycles. We also see that Muslim women can be faith leaders too; with Chaplain Shahin Ashraf who not only provides religious and pastoral support within the community but also works with priests and rabbis to bring people together and promote cohesion. Then there is Neelam Rose, a campaigner challenging community attitudes on taboo issues such as sexuality; she attended the London Orlando vigil in solidarity with the LGBT community.
Faeeza Vaid, Executive Director of MWNUK, said: "The central message of this campaign is that Muslim women are active contributors to Britain in so many different ways. The campaign highlights that we all have multiple identities, and for many faith is an important and enabling one. We're also saying that Muslim women should not just be identified by their faith."
'Tell Mama', a national organisation working with the Police to record and measure anti-Muslim hate crimes, will also be sharing their findings at the event. Following Brexit, Tell Mama saw a 4 times fold increase in the rise of anti-Muslim and racist incidents reported into them. And data from over 1,128 cases of which over 800 were found to be anti-Muslim in nature, identified that women were particularly vulnerable to attacks. Incidents involving women, according to Tell Mama, accounted for 61% of those reported.
The event hosted by Naz Shah MP, said: "the rapid rise in hate crimes needs to be addressed to ensure that no one lives in fear of being targeted simply because of who they are. The #AndMuslim campaign is a fantastic initiative to raise awareness of the brilliant contributions of Muslim women in this country, and their diversity."
MWNUK encourages other British Muslim women to take part by tweeting, sharing online content and nominating their own role models using the hashtag #AndMuslim. And although our campaign focuses on Muslim women, we look forward to Muslim men and other minority groups joining in too to combat stereotypes. Perhaps other hashtags may emerge such as #AndPolish, #AndSikh, #AndBlack. As the late Jo Cox MP said, "We are far more united and have far more in common with each other than things that divide us."
End.
Help us to improve social justice and equality for women and girls
Our Supporters
Jess Phillips MP
Labour Party
MWNUK is courageous because of the uncompromising and fearless positions it sometimes takes when calling out injustice and inequality
Sadiq khan
London Mayor
I am proud to support and champion this fantastic organisation, which is informing policy and transforming lives.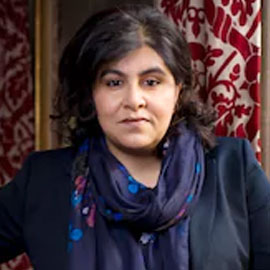 Baroness Sayeeda Warsi
Conservative Party
MWNUK's authenticity comes from knowledge of lived experiences of Muslim women and girls acquired through their helpline, research and members.
Naz Shah MP
Labour Party
They work tirelessly with passion and commitment to make a difference and improve outcomes for some of the most vulnerable women and girls in society.
Dr Shola Mos-Shogbamimiu
Lawyer, Political & Women's Rights Activist
There is no greater time than now for the voices, representation and power of Muslim women to be visible in the feminist movement and all walks of life. MWNUK is a vital force in delivering this much needed balance and representation.