Dhaka and Baghdad Terrorist Attacks - Terrorism has no place in Islam!
Download PDF
4th July 2016
Media Statement
Dhaka and Baghdad Terrorist Attacks - Terrorism has no place in Islam!
Following the latest terrorist attacks in Dhaka and Baghdad, where collectively over 200 people were killed, we at the Muslim Women's Network UK (MWNUK) echo our sentiments following the Istanbul attacks last week. Such callous attacks that result in families, neighbourhoods and nations being torn apart, shake our human core. And we must be shaken. We must not become desensitised to the shock and horror or to the loss of life.
The victims were people, with loved ones, struggles, hopes and dreams just like us. And we must remember this- their lives mattered. We must do all we can to reclaim Islam from extremists who purposefully manipulate religious texts to justify hatred and murder for their political agendas and in doing so are dishonouring God and Islam.
And in the words of Pope Francis on Sunday:
"Let us pray together, let us pray together for them ' for all the dead' and let us ask the Lord to convert the hearts of all those blinded by hatred."
Yours Sincerely
Faeeza Vaid
Executive Director
Notes to the editors
1.About US
Muslim Women's Network UK is a national charity that works to improve social justice and equality for Muslim for Muslim women and girls and operate a national helpline. We find out about their experiences through research and helpline enquiries and produce resources, deliver campaigns and conduct advocacy work, regularly engaging with government.
MWNUK organisational website: www.mwnuk.co.uk
MWMN Helpline website: www.mwnhelpline.co.uk
MWN Helpline contact info: 0800 999 5786 / 0303 999 5786 / info@helpline.co.uk
2 Media contacts
Media spokespeople from Muslim Women's Network UK are:
Faeeza Vaid, MWNUK Executive Director - 07535 703567 / faeeza@mwnuk.co.uk
Shaista Gohir OBE, MWNUK Chair - 07802 225989 / contact@shaistagohir.com
Mussurrut Zia, General Secretary - 07967 655063 / mussurut@yahoo.co.uk
Help us to improve social justice and equality for women and girls
Our Supporters
Jess Phillips MP
Labour Party
MWNUK is courageous because of the uncompromising and fearless positions it sometimes takes when calling out injustice and inequality
Sadiq khan
London Mayor
I am proud to support and champion this fantastic organisation, which is informing policy and transforming lives.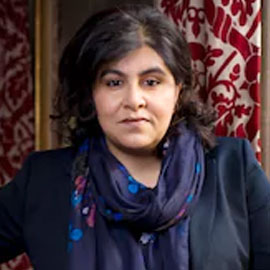 Baroness Sayeeda Warsi
Conservative Party
MWNUK's authenticity comes from knowledge of lived experiences of Muslim women and girls acquired through their helpline, research and members.
Naz Shah MP
Labour Party
They work tirelessly with passion and commitment to make a difference and improve outcomes for some of the most vulnerable women and girls in society.
Dr Shola Mos-Shogbamimiu
Lawyer, Political & Women's Rights Activist
There is no greater time than now for the voices, representation and power of Muslim women to be visible in the feminist movement and all walks of life. MWNUK is a vital force in delivering this much needed balance and representation.