Campaigns
Oct 2014 to March 2015
In 2013, MWNUK launched the groundbreaking report, Unheard Voices: Sexual Exploitation of Asian Girls and Young Women. Six awareness raising events were held in different cities to disseminate the findings so that front line agencies and communities can better protect and also prevent victims of child sexual exploitation.
25/11/2013
In memory of the late Cassandra Balchin, Muslim Women's Network UK are pleased to announce that we will be creating an anthology due for publication in 2014. Our aim is to show a complete picture of the real lives of Muslim women and the wider community. This includes the good, the bad and the ugly and thus whilst we seek for example, submissions on the issue of forced marriage, we similarly welcome submissions on the topic of arranged marriages so as to show a distinction between the two. We would like female genital mutilation discussed along with all the other forms of violence against women. We want the economic inequality of women addressed together with barriers such as racism. There is no limit to the amount of topics, or to the level of creativity that can be displayed by an individual.
14th February 2013
Muslim women are RISING to end VIOLENCE as a part of the global ONE BILLION RISING movement, which will be marked on the 14th February 2013. Muslim Women's Network UK has therefore launched a campaign to encourage more mosques to get involved in tackling violence. We have sent a postcard to 100 mosques across the UK to request they pledge an action to combat violence.
Help us to improve social justice and equality for women and girls
Our Supporters
Jess Phillips MP
Labour Party
MWNUK is courageous because of the uncompromising and fearless positions it sometimes takes when calling out injustice and inequality
Sadiq khan
London Mayor
I am proud to support and champion this fantastic organisation, which is informing policy and transforming lives.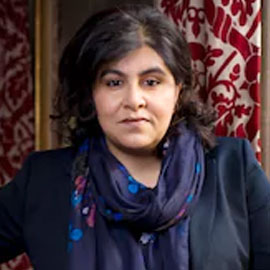 Baroness Sayeeda Warsi
Conservative Party
MWNUK's authenticity comes from knowledge of lived experiences of Muslim women and girls acquired through their helpline, research and members.
Naz Shah MP
Labour Party
They work tirelessly with passion and commitment to make a difference and improve outcomes for some of the most vulnerable women and girls in society.
Dr Shola Mos-Shogbamimiu
Lawyer, Political & Women's Rights Activist
There is no greater time than now for the voices, representation and power of Muslim women to be visible in the feminist movement and all walks of life. MWNUK is a vital force in delivering this much needed balance and representation.