Muslim Women RISING against VIOLENCE - Mosque Postcard Campaign

THE POSTCARD
Muslim women are
RISING
to end
VIOLENCE
as a part of the global
ONE BILLION RISING
movement, which will be marked on the
14th February 2013
. Muslim Women's Network UK has therefore launched a campaign to encourage more mosques to get involved in tackling violence. We have sent a postcard to
100 mosques
across the UK to request they
pledge an action to combat violence
. We would like mosques to help us by reaching out to men about violence - not just on this one day but throughout the year.
Why involve Mosques?
Names of Mosques Contacted
Actions that Mosques can take

Mosques that have responded and taking action
Comments received about the campaign
Why involve Mosques?
Violence against women and girls is the most widespread form of abuse in the world. In Britain, violence is vastly under reported in Muslim communities and many women and girls continue to suffer in silence. The levels of violence are indicative of the lack of respect for women and girls. Changing attitudes is therefore the first step to reducing violence – men need to be educated that violence is unacceptable and never justifiable and women must be encouraged to not continue accepting violence.
Names of 100 Mosques contacted
There are approximately 1600 mosques in Britain – however postcards have only been sent to100 mosques across Britain. They have been selected based on their size, location and diversity with regards to ethnic background / sect.
Aberdeen Mosque &

Islamic Centre

ABERDEEN

Derby Central Mosque

DERBY

Croydon Masjid &

Islamic Centre

LONDON

Oldham Mosque &

Islamic Centre

OLDHAM

Al Muzaffar Mosque

BATH

Markazi Jamia Mosque

DEWSBURY

East London Mosque

LONDON

Perth Mosque & Islamic Society

PERTH

Belfast Islamic Centre

BELFAST

Jamaa Masjid

(Dundee Islamic Society Central Mosque)

DUNDEE

Greenwich Islamic Centre

LONDON

Faidhan-e-Madina

Mosque

PETERBOROUGH

Birmingham Central

Mosque

BIRMINGHAM

Dumfermaline Mosque & Islamic Centre

DUNFERMALINE

Harrow Central Mosque

LONDON

Husaini Islamic Centre

PETERBOROUGH

Ghamkol Sharif

Mosque

BIRMINGHAM

Kepier Mosque

DURHAM

Lewisham Mosque &

Islamic Centre

LONDON

Portsmouth Central Mosque

PORTSMOUTH

Green Lane Mosque

BIRMINGHAM

Eastbourne Islamic

Cultural Centre

EASTBOURNE

London Central Mosque (Regents Park Mosque)

LONDON

Plymouth & Cornwall

Islamic Centre

PLYMOUTH

Hanafi Sunni Jamia

Masjid

BLACKBURN

Anwar-E- Medina

Mosque

EDINBURGH

Noor Ul Islam Mosque

LONDON

Jamia Masjid

PRESTON

Jamia Ghosia Mosque

BLACKBURN

Islamic Centre of

Edinburgh Trust

EDINBURGH

North London

Central Mosque

LONDON

Golden Masjid

ROCHDALE

Central Mosque

BLACKPOOL

Exeter Mosque &

Islamic Centre

EXETER

Shepherds Bush Mosque & Muslim Cultural Centre

LONDON

Rugby Masjid

RUGBY

Ashrafia Mosque

BOLTON

Jamiat Itihad

Al Muslimeen

Glasgow Central

Mosque

GLASGOW

West London Islamic Centre & Jamia Masjid

LONDON

Madina Jamia Masjid

SHEFFIELD

Bristol Jamia Mosque

BRISTOL

Shia Ithna Ashri

Mosque

GLASGOW

Loughborough Mosque & Islamic

Cultural Centre

LOUGHBOROUGH

Southampton Medina Mosque Trust

SOUTHAMPTON

Shah Jalal Jaame

Mosque

BRISTOL

Khazra Central

Mosque

GLASGOW

Bury Park Jamia Mosque

LUTON

Central Scotland Islamic Centre

STIRLING

Central Mosque Razbia Burton

BURTON ON TRENT

Nasir Mosque

HARTLEPOOL

Didsbury Mosque & Islamic Centre

MANCHESTER

Masjid Farooq-E-Azam

STOCKTON ON TEES

Bradford Central

Mosque

BRADFORD

Hull Mosque &

Islamic Centre

HULL

Manchester Central

Mosque

MANCHESTER

Makki Masjid

STOKE ON TRENT

Madni Jamia Masjid

BRADFORD

Al Kauthar Mosque

LANCASTER

Salimiy Mosque

MANCHESTER

Sunderland Mosque

SUNDERLAND

Masjid Al Quds

BRIGHTON

Leeds Grand Mosque

LEEDS

Abu Bakr Mosque &

Community Centre

MIDDLESBOROUGH

Imam Khoei Islamic Centre

SWANSEA

Canterbury Muslim

Cultural Centre

CANTERBURY

Masjid-E-Umar &

Muslim Association

LEEDS

Darul Islam Central Mosque

MIDDLESBOROUGH

Swansea City Mosque

SWANSEA

Al Manar Centre

CARDIFF

Leicester Central Mosque

LEICESTER

Central Jamia Mosque

MILTON KEYNES

Swindon Mosque

SWINDON

Madina Mosque

CARDIFF

Leicester Jamia Mosque

LEICESTER

Koktu Mosque

NEWSCASTLE

Tunbridge Wells

Islamic Cultural Centre

TUNBRIDGE WELLS

Carlisle Masjid Taqwa

CARLISLE

Lincoln Mosque &

Islamic Association

LINCOLN

Madina Masjid

NEWSCASTLE

Aisha Mosque & Islamic Centre

WALSALL

Kent Islamic Centre

Mosque

CHATHAM (Kent)

Al Rahma Mosque

LIVERPOOL

Shak Jalal Masjid &

Islamic Cultural Centre

NEWSCASTLE

Jamiat Ul Muslimeen Jamia Masjid

WARRINGTON

Chesham Mosque

CHESHAM

Abu Bakr Mosque

Southall

LONDON

Jamia Mosque

NEWPORT

Central Mosque

WOLVERHAMPTON

Shah Jalal Mosque

CHESTER

Al Madina Mosque

Barking

LONDON

Shah Poran Bangladesh Jame

Mosque

NEWPORT

Jamia Masjid Ghousia

WORCESTER

Jamia Mosque

COVENTRY

Aziziye Mosque

LONDON

Nurani Jami Masjid

NOTTINGHAM

Shah Jahan Mosque

WOKING

Jamia Mosque

DARLINGTON

Baitul Futuh Mosque

Morden

LONDON

Nuneaton Muslim Society

NUNEATON

York Mosque &

Islamic Centre

YORK
Actions that Mosques can take
We also want to use this campaign to highlight those mosques that already are or are willing to take action to try and end all forms of violence against women and girls. Here are some examples of actions you could be taking:
• Speaking out against all forms of violence
• Intervening and helping victims
• Holding perpetrators accountable
• Offering a safe space for women to seek help or hold support groups
• Raising awareness by displaying posters, providing information or through talks and sermons
• Using zakat to help victims
• Educating community members to teach their sons to respect women and girls
Mosques that have responded and taking action
We will post on here as information as soon as mosques start responding....
BIRMINGHAM CENTRAL MOSQUE
They have been the first mosque to respond to and publicly support our campaign. They have:
placed the postcard on their noticeboards
announced support for the campaign at the Friday sermon on 15th Feb 2013 and spoke about the importance of tackling violence and quoted statistics
they are willing to work with women to organise some educational / awareness raising workshops / seminars aimed at boys and men to challenge attitudes towards violence

For more information about this, visit:
http://www.centralmosque.org.uk/

Comments received about the campaign
"It is an obligation for mosques to follow in the footsteps of Prophet Muhammed and promote the rights of women and challenge the ignorant attitudes that men hold about women and, which are due to the lack of Islamic knowledge and low educational levels within communities."
Dr. Mohammad Naseem, Chair of Birmingham Central Mosque
"I am truly impressed with the campaign you are launching. Well done!

I have nothing but admiration for what MWNUK do. Despite many challenges, the continued robust existence of MWNUK with a mission is its greatest testimonial."
Dr Nazia Khanum OBE
Chair of Luton Multi-agency Steering Group on Forced Marriage and
Honour-Based Violence and also Chair of UNA-Luton
"Some fantastic work being carried out a big thank you. The mosque is a great starting point and I am delighted with your campaign."
Firoza Mohmed - Service Manager at Humraaz (a Blackburn based refuge that
supports women and children in times of crisis by providing refuge and support).
"I believe in women's rights and support this campaign."
Asjad Nazir (Showbiz Editor of Eastern Eye)
"Men and women both need to work together, great news."
Saleha Begum (Artist and Poet)
"This really is excellent news, there is NO DOUBT that the community need to address issues like this."
Shalina Litt
"I am so impressed by what the Muslim Women's Network UK is doing. I felt sad, hurt and powerless regarding the situation of my "muslim sisters" but now I am feeling more positive and I am starting to fill myself with hope."
Michelle Lepine (Canada)
"This campaign is much needed so that our services are not as overstretched as they are. We can have upto 11 new cases a day. "
Shaz Manir (Director of the Amirah Foundation -
www.amirahfoundation.org
)
"Once again thank you so much, you do some great work on women's issues."
Tanveer Raza Qureshi (Presenter at Birmingham Unity FM Radio - Drive Time Show)
"Thats great news (about Birmingham Mosque pledging support). I am sure other mosques will follow too. It is a cultural issue that often gets merged with Islam. Domestic violence is a crime and shiuld be treated as such. However educating men is the way forward for long term benefits. Well done."
Adam Mohammed
Help us to improve social justice and equality for women and girls
Our Supporters
Jess Phillips MP
Labour Party
MWNUK is courageous because of the uncompromising and fearless positions it sometimes takes when calling out injustice and inequality
Sadiq khan
London Mayor
I am proud to support and champion this fantastic organisation, which is informing policy and transforming lives.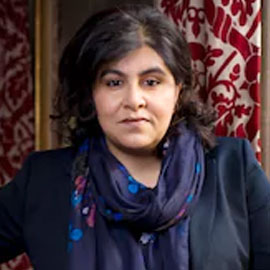 Baroness Sayeeda Warsi
Conservative Party
MWNUK's authenticity comes from knowledge of lived experiences of Muslim women and girls acquired through their helpline, research and members.
Naz Shah MP
Labour Party
They work tirelessly with passion and commitment to make a difference and improve outcomes for some of the most vulnerable women and girls in society.
Dr Shola Mos-Shogbamimiu
Lawyer, Political & Women's Rights Activist
There is no greater time than now for the voices, representation and power of Muslim women to be visible in the feminist movement and all walks of life. MWNUK is a vital force in delivering this much needed balance and representation.